Estimated read time: 2-3 minutes
This archived news story is available only for your personal, non-commercial use. Information in the story may be outdated or superseded by additional information. Reading or replaying the story in its archived form does not constitute a republication of the story.
SALT LAKE CITY — Facebook can often be a source of engaging political discourse, and frequently provides the high-point of intellectual debate and factual rebuttals.
Just kidding.
As election day looms ever closer, your Facebook friends are likely pummeling your wall with political ramblings. Instead of reading through the drivel, wouldn't you prefer to see a feed full of cats?
Unpolitic.me is a new, free extension available for the Google Chrome web browser that acts as a filter for your Facebook feed. The creators of Unbaby.me — a similar extension that filters out baby photos — have gone to even greater lengths to ensure that your friends are unable to spew their political discourse upon your virtual face, and instead shows you an RSS feed of photos of kitties. Kitties!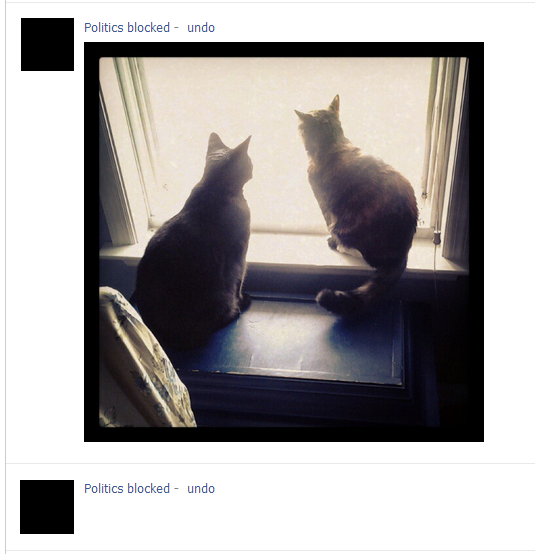 The extension works by providing users a list of "buzz words" that are automatically filtered out to begin with. The obvious inclusions of "romney", "obama", and "how messed up is this country" rest alongside ones you may not even have known were bothering you, such as "fore fathers" and "ron paul". Of course, users can add whatever words they like to this list, which extends its uses far beyond simply blocking political content (read: YOLO).
"This is the surest way to ride out the rest of the election (and or life) without bothersome posts, opinions, and links from your politically savvy 'friends'," reads the extension descriptor. "Install the app. Refresh your Facebook newsfeed. Enjoy an Obama AND Romney free life."
Of course, this app isn't for everyone. More power goes to those of you that can enjoy healthy, informed debates on social media. I'll simply speak for myself in saying that pictures of rainbows and corgi puppies create a much more entertaining atmosphere.
×
Related links
Related stories