Estimated read time: 2-3 minutes
This archived news story is available only for your personal, non-commercial use. Information in the story may be outdated or superseded by additional information. Reading or replaying the story in its archived form does not constitute a republication of the story.
Ed Yeates reporting Fitness may be more significant to our health than what we eat, or whether we're fat or lean. That's the latest twist from researchers reporting in this afternoon's Journal of the American Medical Association (JAMMA).
Obesity is an epidemic, but a new study in JAMA suggests we may have condemned those who are overweight too much.
Dr. Elizabeth Joy at the University of Utah agrees, saying fitness, more than an obsession with diet or weight, is the key player for good health. "People who are obese but fit are actually healthier than people who are skinny and sedentary," Joy explained.
Obesity, in fact, may be the byproduct of a country gone soft, meaning sedentary: Television sets now outnumber people in American households. If given a choice, most children prefer video and computer games over playing outside. Riding mowers and leaf blowers have replaced push mowers and rakes.
Another concern is moving sidewalks at airports where the sidewalk walks you. You're not walking the sidewalk. "We essentially engineered physical activity out of people's lifestyles. I think moving sidewalks at the airport is a classic one. I mean, why can't we walk 25 to 50 yards to go from, you know, security to Terminal B?" Joy asked.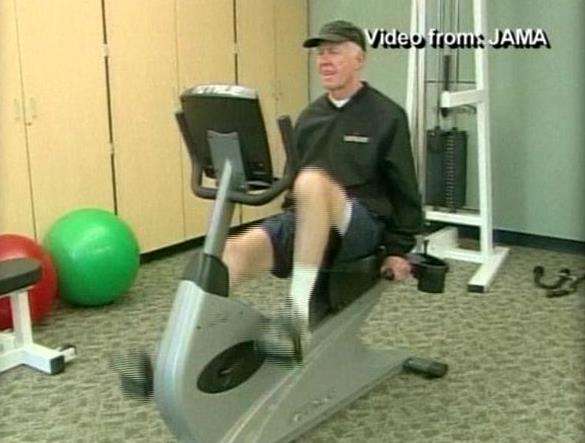 Joy says researchers are recommending sort of a convergence: Physicians need to promote fitness with their patients. Urban environments must change to support more physical activities. "No Child Left Behind," may have inadvertently prioritized academic courses, while sacrificing physical education.
And what do parents need to do? Joy says the least they can do is buy interactive video games that force players to move their arms and hands, and heaven forbid, perhaps even the legs.
The JAMA study says it doesn't take much. Researchers suggest even a brisk walk for 30 minutes or more on most days of the week could keep most adults out of the "low fitness" category.
×
Most recent Utah stories