Estimated read time: 2-3 minutes
This archived news story is available only for your personal, non-commercial use. Information in the story may be outdated or superseded by additional information. Reading or replaying the story in its archived form does not constitute a republication of the story.
Lori Prichard reportingThe man who received a $15,000 reward for helping police capture two escaped killers, tonight got his real reward.
Police got a break when that man, who the convicts had tied up and robbed, managed to break free and call them. Tonight Bill Johnson met the two families whose lives were destroyed by the same men who tied him up and left him for dead.
The convicted killers, Danny Gallegos and Juan Diaz Arevalo, escaped from the Daggett County Jail in September and were captured after a six-day manhunt.
For two families, time will never erase what those two men took from them. Tammy Syndergaard was shot and killed by Gallegos. Lindsey Fawson was murdered in front of one of her two children by Diaz Arevalo.
Syndergaard's aunt, Jean Balliger, said, "I'm sure thankful they did get caught."
Tonight these families said thank you to the man who they believe helped put the two convicted murderers back behind bars.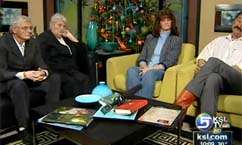 Lindsey Fawson's mother, Tessie Seneca, told Bill Johnson, "We now have custody of those two little boys. We wanted to give this certificate of achievement to you on behalf of them. It just says thank you for granting our family's peace of mind, with gratitude in our hearts."
Johnson replied, "I really appreciate this, but I'm no hero. I was just lucky."
However hard he tried, there was no talking these families out of their belief that Bill Johnson helped bring their six-day nightmare to an end.
Tessie said, "My husband was so happy. We live in a circle and he was running out in the circle, and pulling the cops out of the car, hugging them and jumping up and down."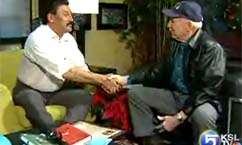 Both families wanted to hear every detail about what happened the night Johnson came face to face with their daughters' killers. Both families wanted Bill Johnson to know he is lucky to be alive.
Lindsey Fawson's stepfather, Robert Seneca, told him, "I'm glad that you're alive. I'm glad that I was able to meet you. I'm going to shake your hand one more time."
Each family says it now shares a bond with the other. Not only that, there are people who understand their grief as well as their frustrations. Each traded phone numbers and addresses. And they promised to get together for dinner one night to celebrate life.
×
Related links
Most recent Utah stories