Estimated read time: 3-4 minutes
This archived news story is available only for your personal, non-commercial use. Information in the story may be outdated or superseded by additional information. Reading or replaying the story in its archived form does not constitute a republication of the story.
MONROE — Emotions boiled over at a football game Saturday night in Fillmore, and the game between Nephi and South Sevier teams melted down amid allegations of unsportsmanlike conduct and even efforts to knock players out of the game.
Things got so heated among players, fans and coaches that the referee halted the big game before it was over. All this with players who are 13 and 14 years old and in the eighth grade.
It's the talk of the town in Monroe as well as in Nephi roughly 90 miles away. Two teams of small-town kids, their biggest game of the year, and it ended in a way no one wanted.
Emotions were high from the start because it was the semifinals in the tri-county playoffs. But by the third quarter, lots of people were downright angry.
Juab High coach Mike Bowring oversees the team from Nephi.
"There were a few calls during the game that I think got parents upset," Bowring said.
The South Sevier team is coached by Ryan Tobler.
"Their players started cussing back at our fans, and the refs stopped the game at that point and talked to their players about it," Tobler said. "And so and then it started with the coaches shortly after that."
Related:
Some say it started to heat up when Nephi was way ahead did an on-sides kick, which may have been was interpreted by Monroe fans as insulting. Then, Nephi's quarterback and backup quarterback were hit three times, allegedly late, after they had already handed off the ball.
"They didn't need to happen," said Payton Bowring a Nephi Player. "He just came out of nowhere and hit him. He was defenseless. And so they hit him."
In at least one case, referees ruled there was helmet to helmet contact, although the referee told KSL he didn't think it was deliberate.
The referee stopped the game with only 2 ½ minutes gone in the 4th quarter. The team from Nephi was declared the winner because they were ahead 30 to 6.
The referee told us he stopped the game for the safety of the kids after consulting with the coaches and finding emotions rather high. The referee said he was told later that both Nephi quarterbacks had mild concussions, but KSL has not been able to confirm that.
"We felt like maybe there was a motive, or whatever you want to call it, to take the quarterback out," said coach Bowring. "I'm not saying that that's the case. But that was the feelings that we were having. Which triggered some of the controversy."
Monroe coaches insist there were no deliberate late hits or efforts to knock the quarterbacks out of the game.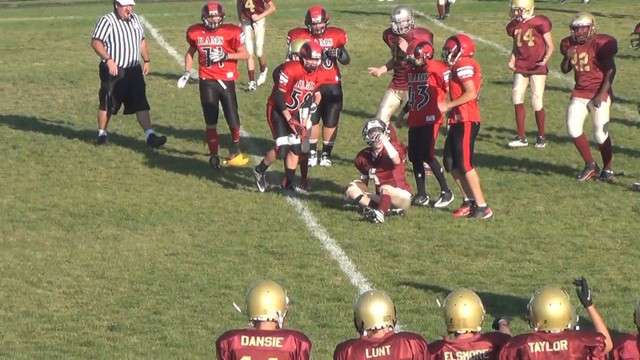 "We're not like that. We wouldn't do that," said South Sevier Defensive Coach Jayson Borg. "No way, because your own kids get hurt in that situation. You don't do that."
"When the whistle blows, that's when you stop. No late hits," Tobler said. "No. We don't teach that. We didn't teach it then."
Regardless, many are disappointed it happened.
"It just got out of control and, you know, a series of events that led up to this," said Coach Bowring. "And it's too bad because nobody wins in this. There's no winners in this."
×
Photos
Related stories
Most recent Utah stories