Estimated read time: 2-3 minutes
This archived news story is available only for your personal, non-commercial use. Information in the story may be outdated or superseded by additional information. Reading or replaying the story in its archived form does not constitute a republication of the story.
(KSL News) Many Utahns enjoy watching Dick for the job he does each night on the screen. But those of us who get to work with him enjoy his trademark interaction behind the scenes.
Dick's grand entrance to work each night becomes a production as the number dwindles down. It's a tone he's helped set over the years in the newsroom.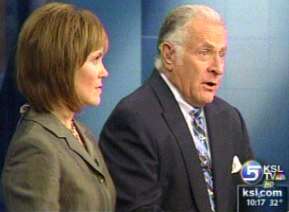 Heber Barker, an audio technician, says, "Instead of just doing a normal mic check--testing one, two, three, four--that I needed to get a voice level, and so he thought he would come up with a quote of the day."
One of those quotes went, "Hairdressers are like people. No, hairdressers are like priests, people like to talk to us."
On any given night, Dick has a Crown Burger milkshake and a story to tell.
Producer Chris Moore says, "It surprised me just how humorous he is and how he can kind of switch things from a serious news story, just being able to joke around."
The same qualities that appeal to viewers endear him to his colleagues, with his warmth and friendliness.
Photographer Jeremy Castellano says, "I was caught off guard when I first started because the very first day I started there was Dick Nourse, this legend that we all grew up with, and he said, 'Hey Jeremy, how are you doing? Welcome.'"
Al Taylor, with promotions, said, "He's genuine. Just a great guy who loves what he does and loves the people he works with."
He makes us smile, whether by celebrating his arrival or joking about his exit.
You won't want to miss Dick's final newscast tomorrow night at 10:00. Also, at 6:30 tomorrow evening, watch a special "Dick Nourse Gala" with all kinds of special guests and a tribute to Dick from former NBC Nightly News anchor Tom Brokaw.
×
Most recent Utah stories