Estimated read time: 2-3 minutes
This archived news story is available only for your personal, non-commercial use. Information in the story may be outdated or superseded by additional information. Reading or replaying the story in its archived form does not constitute a republication of the story.
HOLLYWOOD — The big winners at the Emmy Awards Sunday night were ABC's "Modern Family" and the Showtime series "Homeland." While those two shows are what everyone's buzzing about the day after the awards, there were a couple of moments you may have missed that are worth another look.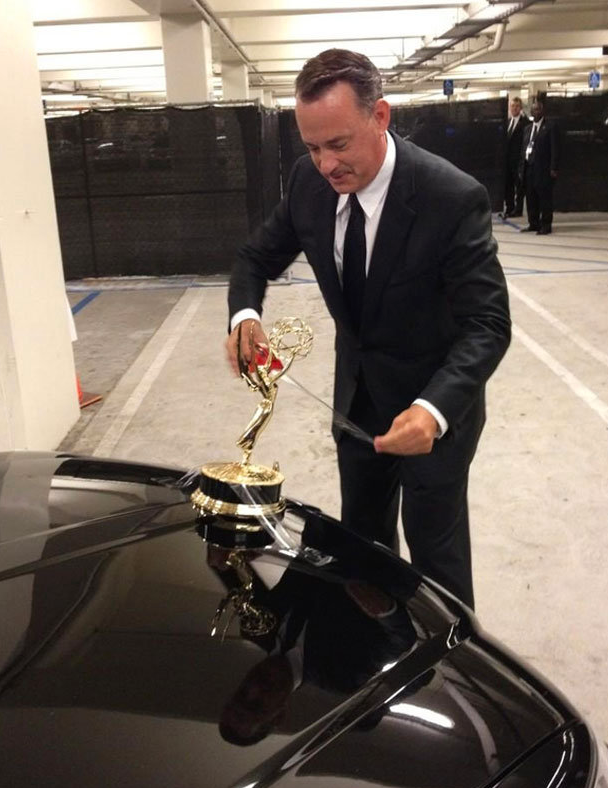 #poll
After the show Hollywood superstar Tom Hanks was getting ready to take his newest Emmy Award home and place it next to his two Oscars and four other Emmy's.
Well, apparently Hanks feels he has enough hardware and took the statuette he earned for his producing role on "Game Change" and strapped it to the hood of his car. Hanks then jumped in and said to his driver, "And, GO!" The driver seemed to have a ball as he showed off the new hood ornament on the town car.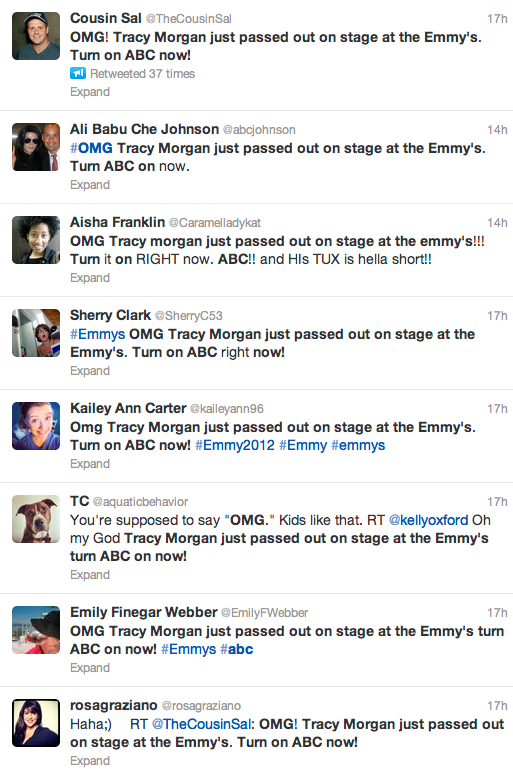 This picture came from Hanks' wife's, Rita Wilson, twitter account. The big question now seems to be, is Hanks just a fun loving guy who doesn't take life too seriously, or is he a pretentious star who's showing that he couldn't care less about winning another Emmy? Either way, it made me chuckle.
Tracy Morgan Passes Out on Stage (Kind of)
Jimmy Kimmel hosted the awards show and while he made us laugh by taking jabs at, well, pretty much everyone, he managed to steal the show with TV star Tracy Morgan.
At one point Kimmel decided he wanted to pull a prank on all those who weren't watching the show and had people in the audience and those watching the show to tweet out "OMG! Tracy Morgan just passed out on stage at the Emmy's. Turn ABC on now!"
From there, Morgan handed his nun-chucks to Kimmel and laid there on the stage.
Watching it literally made me laugh out loud and Twitter accounts everywhere blew up with Tracy Morgan tweets.
So, while awards shows seem to be exhausting anymore, at least Sunday night's show gave us a couple of good moments.
×
Related links
Related stories
Most recent Features stories