Estimated read time: 2-3 minutes
This archived news story is available only for your personal, non-commercial use. Information in the story may be outdated or superseded by additional information. Reading or replaying the story in its archived form does not constitute a republication of the story.
DENVER — A 7-year-old survivor of bubonic plague says she is feeling much better.
She spent her first day out of the hospital at the zoo.
Sierra Downing has faced and overcome a sickness that no one else in Colorado has battled in six years.
The last confirmed case of bubonic plague was in 2006.
"We believe this is a miracle she survived," Sierra's father Sean Downing said.
It happened fast.
"She had a seizure, and I took her to the emergency room," Sean said.
An emergency medical helicopter took his young daughter to Denver as he made the five hour drive.
At one point during the trip, he got to talk to Sierra on the phone after doctors stabilized her.
"She was slurring her words but she said 'daddy, hurry! Why is it taking you so long to get to me?'" Sean said.
"First I was really, really cold [and] then hotter and hotter and hotter," Sierra remarked.
Sierra had a fever of 107 degrees. Doctors at Rocky Mountain Hospital for Children in Denver said it is as high as they had seen.
With a teddy bear clutched in her arms and snuggled into a wheelchair, Sierra Jane left the hospital Monday after two and a half weeks.
Many of those days the 2nd grader was in critical condition.
Before going home, she spent some time with her parents at the Ronald McDonald House.
"We could not have done it without this place," Sierra's mom Darcy Downing said. "It really makes you feel like you have a home and support."
Sierra Jane squealed with happiness as she dug into a gift box that was delivered to the house.
It had candy and crayons and nail polish.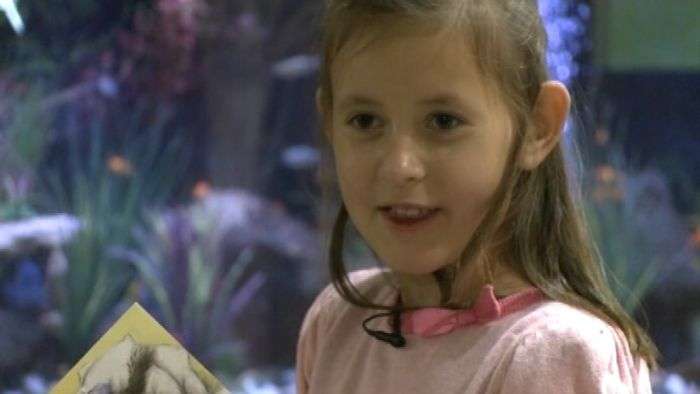 "I got bubonic plague," Sierra said. "It was from a dead squirrel. My sweater was near it."
Her mom deduced later that fleas from the carcass must have jumped on to the sweater.
The Downing family says they had a lot of support from friends and family.
"We are so humbled that so many people care," Sean said.
They both talk about the doctors and their friends and neighbors in Pagosa Springs who have been so kind.
"I know that our faith has been exercised and increased through this," Sean said.
They'll go home to Pagosa Springs on Wednesday to be reunited with their two older daughters and the community who helped them get through this.
×
Related links
Related stories
Most recent Science stories