Estimated read time: 2-3 minutes
This archived news story is available only for your personal, non-commercial use. Information in the story may be outdated or superseded by additional information. Reading or replaying the story in its archived form does not constitute a republication of the story.
OGDEN — A Utah man is recovering at McKay-Dee Hospital in Ogden, following a weekend rock-climbing accident that left him battered, bruised and stranded on a cliff.
Tim Myers and his friend Kevin Curtis had been planning and researching the climb up London Spire, located in Box Elder County, for a couple of weeks. They had the proper gear, Myers said, and even avoided areas known for loose rock.
As they began their climb on Sept. 8, what the men weren't prepared for was the rock slide that occurred in an area believed to be safe. The cascading boulders injured Myers and forcing the two to spend the night on an 18-inch cliff.
---
It happened really quick. I looked down, and four or five boulders are going towards Tim.
–Kevin Curtis, rock climber
---
But even with a dislocated shoulder and a crushed foot, Myers was grateful to be in a hospital bed Monday.
"I feel good. I feel fortunate, to be honest," he said. "It could have been a lot worse than it was."
Meyers and Curtis were only about 80 feet from the summit when loose rock came crashing down.
"It happened really quick," Curtis said. "I looked down, and four or five boulders are going towards Tim, and dust; and I just screamed, 'Rock!'"
"One of the rocks just barely missed my head, and another one — I was wearing a backpack — hit the backpack, which kinda crunched me down," Myers said.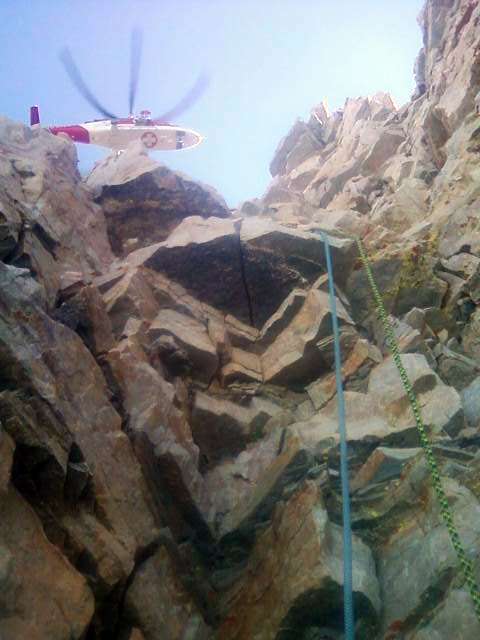 Crews couldn't safely get the climbers down that night, so Myers and Curtis were forced to spend the night on the ledge.
"We bolted ourselves into the wall," Myers explained. "We had a bunch of pieces of gear along the wall, (and) we roped ourselves."
They survived on the food they had and rationed their remaining 6 ounces of water. They had a space blanket and extra clothes to keep them warm.
Myers took ibuprofen for the pain, but it was a long, sleepless night. "I couldn't get my arm back into the socket," he said. "I wasn't sure if it was broken or not. I was in pain pretty much throughout the entire evening."
Myers was rescued 14 hours after he was hurt. Curtis snapped a photo of Myers moments before search and rescue got to them Sunday morning. Another photo shows their perspective as crews were getting ready to hoist the men onto another perch, where a medical helicopter could reach them.
Myers looks back on the dramatic rescue with an overwhelming feeling of gratitude for everyone involved.
"They were great," he said. "They were amazing."
Myers had surgery to repair his right foot, and there's a big gash on his left foot. Doctors tell him he could be out of the hospital Tuesday.
×
Photos
Related Stories