Estimated read time: Less than a minute
This archived news story is available only for your personal, non-commercial use. Information in the story may be outdated or superseded by additional information. Reading or replaying the story in its archived form does not constitute a republication of the story.
AP Photo / Chile Air ForceRandall Jeppesen, KSL Newsradio
A Utahn is among the passengers that were aboard a cruise adventure ship that hit an iceberg and is sinking in the Antarctic Ocean.
A phone call woke Robert Paisola early this morning. It was a family member letting him know that his sister and aunt were on a sinking ship in the Antarctic.
The good news was they all made it to the life boats. "They were in a small, little rowboat for five hours in 23 degree weather, so hypothermia did set in," Paisola explained.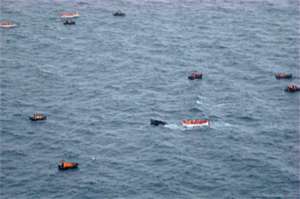 He says his sister was able to make a satellite call letting them know she was OK.
"All I care about is that they have food, that they have water, that they are OK," Paisola said.
The family is now trying to figure out how to get the sister and aunt home once they reach land in Chile.
×
Related links
Most recent Utah stories