Estimated read time: 3-4 minutes
This archived news story is available only for your personal, non-commercial use. Information in the story may be outdated or superseded by additional information. Reading or replaying the story in its archived form does not constitute a republication of the story.
PROVO — A portion of the presidential campaign trail wound through Utah Wednesday. GOP vice presidential candidate Rep. Paul Ryan was in Utah County for about eight hours, holding three successive fundraisers at the Utah Valley Convention Center.
Arrival in Utah
The candidate's day began in Provo shortly after 1 p.m. when he was greeted by a local troop of Boy Scouts after his campaign plane landed at the Provo airport.
The candidate waved to the media and the handful of people gathered outside the security fence to cheer his arrival but made no public statement. He did, however, take time to ask the Scouts from Troop 720 their names and shake their hands.
Eighth-grader Schafer Heiner admitted he was anxious about his first meeting with someone famous.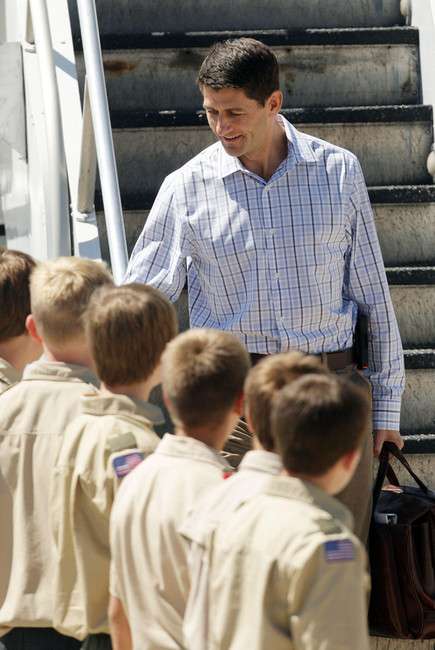 "I was really nervous, and I was really hoping that I wouldn't mess up," Heiner said. "He told us hi, and thanks for coming out. He also told us his kids were Cub Scouts. He seemed cool. I just told him my name and I said hi."
Scoutmaster Paul Mix said he got a call Tuesday night from the Romney campaign asking for him to arrange for scouts to meet Ryan's plane, emblazoned with the GOP ticket's "Believe in America" slogan.
"I was so excited to call the parents," Mix said. "I mean, how many times can you call up a parent and say, 'The future maybe vice president of the United States wants to meet your boy tomorrow.' It's just unique. You don't ever have that happen."
The Scouts were excused from school to attend, and parent Dirk Astle said the experience was worth it. "They all said what a normal guy he was, which is really cool," he said. "To hear them say that obviously gives them hope for what they could become."
Ryan was in Utah in June to raise money for 4th District congressional candidate Mia Love. Wednesday, Love was named to Romney's Black Leadership Council.
The fundraisers
Wednesday night, Ryan pumped up crowds and raised plenty of campaign cash at three different fundraisers. While most members of the media were not allowed inside, attendees told KSL News they had the atmosphere of a rally at times.
"It's really a fight for the soul of our country right now. He's rallying support by raising money so we can go to battleground states and be successful," said Utah GOP Chairman Thomas Wright.
---
It's really a fight for the soul of our country right now. He's rallying support by raising money so we can go to battleground states and be successful.
–Thomas Wright, Utah GOP
---
Ryan told the crowd, it was the most important election of their lives, and they backed him with their support: from the $25,000-a-plate dinner to the $1,000-a-ticket open reception.
But it only cost $20 for students like Kelsie Everson, a junior at BYU, to get in.
"He gave a lot of positive re-enforcement about what he and Mitt (Romney) are planning on doing to help this country. It was great," Everson said.
Ryan told the crowd: "We're a nation deeper in debt, further in doubt and on a road to decline. We can't let that happen. Not on our watch."
"He's serious about what he does, and he loves this country," said Gwen Warren, a Mapleton resident who attended the reception. She got her photograph taken with the congressman for her $2,500 contribution.
"I think he's solid," Warren said. I think he's a very honest man, and I think he's brilliant when it comes to the economy."
Earlier in the day, the congressmen stopped at the Romney-Ryan campaign call center in Orem and expressed his support for prayer in public schools — a position supported by many Utahns.
At the fundraisers, everyone was excited to be a stop on the campaign.
"It's always fun to be around the buzz of a presidential election," Wright said. "Romney and Ryan know Utah, they come here often. When they're elected, they'll come here even more often. It's great for Utah to have this significance, because we are one of the best-managed states in the country."
×
Photos
Related links
Related stories
Most recent Utah stories