Estimated read time: 5-6 minutes
This archived news story is available only for your personal, non-commercial use. Information in the story may be outdated or superseded by additional information. Reading or replaying the story in its archived form does not constitute a republication of the story.
SALT LAKE CITY — A well-known civil rights attorney who for decades doggedly tackled topics from AIDS to gender discrimination to panhandling has died.
Brian Barnard died peacefully in his sleep, according to his law partner at the Utah Legal Clinic, Stewart Gollan. Barnard was 67.
"Brian had 40 years of experience and had been been the primary moving force in civil rights law in Utah for many decades," Gollan said. "He was the civil rights guy. Other attorneys used to describe him to me as the Godfather of Civil Rights in Utah."
Gollan said his partner took on cases for prisoners living in "deplorable" conditions, women who were excluded from social clubs because of their gender, people who had experienced police brutality and many others.
---
He was the civil rights guy. Other attorneys used to describe him to me as the Godfather of Civil Rights in Utah.
–Stewart Gollan, Barnard's law partner
---
"The loss of Brian can't be understated," he said. "Brian was the moving force for a huge number of cases and a huge number of actions representing people who really had very few other places to turn and very little voice in the community."
Salt Lake City police detective Dennis McGowan said police were called on a report of an unattended death at Barnard's home address, about 11 a.m. Tuesday. McGowan said police were attempting to notify next of kin before releasing the name of the deceased person found inside.
There is nothing suspicious about his death, he said. It was unknown how long Barnard had been dead, when his body was discovered or who found the man.
Barnard's professional career
Chief Deputy Attorney General Kirk Torgensen said Barnard was a true advocate who was not afraid to champion unpopular issues. Barnard had been a leader in civil rights laws and worked to ensure that governments lived up to their "constitutional promises," Torgensen said.
"I have a tremendous amount of respect for Brian," he said, adding that he often praises Barnard to the students he teaches. "He's just been at the top of that game. He's been that champion for constitutional rights and for unpopular views. He's been that voice for democracy that we desperately need from time to time.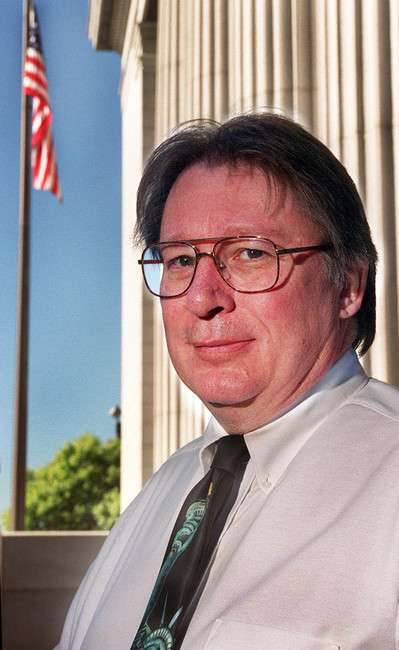 "I didn't always agree with his arguments, but I always agreed that he played that important role," Torgensen said.
Barnard worked to have a law that invalidated marriages of AIDS patients stricken. He represented a group of panhandlers who said they were being ticketed for asking for donations in downtown Salt Lake City. He filed a lawsuit that led to the prohibition of placing white crosses on public lands to commemorate fallen Utah Highway Patrol troopers.
He defended the rights of animal welfare activists who wanted to protest at the state Capitol. He championed the cause of Summum, a small Gnostic Christianity-based sect out of Salt Lake City that sought to place a monument of their Seven Aphorisms next to a similar monument of the Ten Commandments.
He advocated for those who took on their cities over when and how they could display political signs on their property. He argued that the practice of polygamy was a religious freedom.
Assistant attorney general Tom Roberts faced Barnard in many cases, including the UHP cross case. Roberts said he always liked Barnard because the man was straightforward.
"He worked hard for his clients," he said. "He had a real interest and passion in individual rights and liberties."
Roberts said he first heard about Barnard when he started practicing law in the mid-'70s. He said Barnard played an important role in the community and will be greatly missed.
"The legal community and the civil community need someone like Brian to always stand up and challenge those rights, to make governments stop and think about what they're doing," Roberts said. "Brian was good at that."
He said he saw Barnard on Friday when he delivered a check that was owed to Barnard in the panhandling case. Roberts said Barnard seemed "normal and happy."
Friends, coworkers shocked by untimely death
Karen McCreary, executive director of the American Civil Liberties Union of Utah, called Barnard's death "a huge shock."
McCreary remembered him as a passionate, determined man with a great sense of humor.
"He's just an amazing person, a great lawyer, a big supporter of the work we do supporting free speech rights of young people to protest," she said. "It's a huge loss. Brian has been fabulous. I can't imagine Utah without him. It's who we all think of for civil rights work in Utah."
---
It's a huge loss. Brian has been fabulous. I can't imagine Utah without him. It's who we all think of for civil rights work in Utah.
–Karen McCreary, ACLU of Utah
---
McCreary and Gollan both said they hoped they can help continue in the work that meant so much to Barnard. Gollan conceded, though, that the cases they worked on together will be difficult without him.
"They're certainly going to be much more of a challenge without Brian's both experience and just incredible skill," he said. "He was an incredibly adept and skilled attorney.
"I've been working with Brian for quite some time, and a great deal of what I know about practicing law came from Brian," Gollan said. "I hope that we can move forward on those cases and that I can make Brian proud and the things Brian taught me will serve our clients well."
Gollan said the loss is "an incredibly difficult blow" both personally and professionally. He said Barnard was a dear friend who he respected and loved.
"I just think it's certainly a sad day," he said. "Our community is a much more just place because Brian chose to do what he did for an entire career. I certainly hope that this organization and I — and certainly others in the community — will take up his banner and continue to fight for those who have a hard time finding a voice."
Contributing: Pat Reavy and Mike Anderson
×
Related stories