Estimated read time: 2-3 minutes
This archived news story is available only for your personal, non-commercial use. Information in the story may be outdated or superseded by additional information. Reading or replaying the story in its archived form does not constitute a republication of the story.
SALEM, Ore. — The superheroes patrolling the streets of Salem, Oregon come armed with sandwiches and socks.
A couple of times a month, Steve Naylor and Jeff Bronson don masks and costumes and walk through the streets and parks of historic downtown Salem.
They are hard to miss.
Naylor, with his black cape and white collar goes by "The Rev."
Bronson's favorite color, green, shows up in a face mask and matching armor and completes his persona, "Hazmat."
Unlike other so-called "real-life superheroes", Naylor and Bronson are not interested in law enforcement.
"I first saw some superheroes on the news and I said I want to do that and I was gonna be a super awesome crime fighter," Naylor said. "So I put on a cape and went in dark alleys at night and realized that was just a fantasy."
Instead, the duo roams the streets looking to help the homeless.
Within a few minutes on Labor Day evening, they run into familiar faces behind the downtown mall and within a local park.
Both carry duffel bags full of bottled water and toothbrushes to distribute.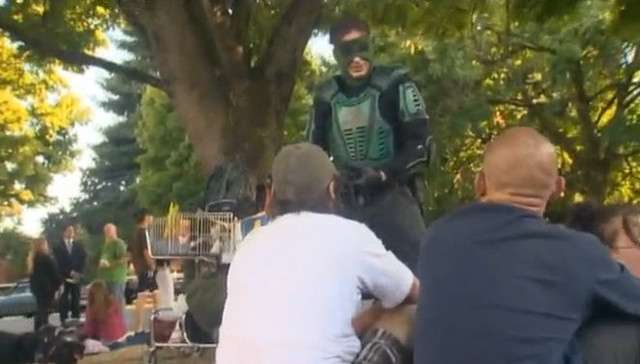 Socks are usually particularly popular.
A woman named Paula says there's one thing she needs most on this night: "Food. I have to eat five times a day, I'm diabetic."
The superheroes hand Paula a sandwich in cling wrap and then offer her something one member of the duo knows first-hand is in short supply: Human connection.
"I make eye contact and shake people's hands because when I was homeless, people wouldn't talk to me or look at me for days at a time," Naylor said, referring to his days as a young man living on the streets of Portland.
When Naylor isn't in costume, he's working construction.
Bronson has a job in security.
Although they do get the occasional donation, most of the supplies come from out-of-pocket.
In between handing out provisions, the duo stops to chat with those who want their image-not their charity.
"People take pictures and put it on Facebook and laugh but it also takes away the scary factor from two guys walking around under bridges," Bronson said. "We're superheroes and we're here to help."
×
Photos
Related links
Related stories