Estimated read time: 1-2 minutes
This archived news story is available only for your personal, non-commercial use. Information in the story may be outdated or superseded by additional information. Reading or replaying the story in its archived form does not constitute a republication of the story.
SALT LAKE CITY (AP) -- The West Valley gun dealer accused of selling a shotgun to a teen immigrant who then used it during a shooting rampage in a Salt Lake City mall appears to have reached a plea agreement with prosecutors.
Court documents filed in Utah's U.S. District Court show Westley Wayne Hill has asked for a change of plea hearing Nov. 26, the day he was scheduled to stand trial.
Federal prosecutors claim Hill, 39, sold a Maverick Arms Model 88 12-gauge shotgun to Sulejman Talovic on Nov. 13, 2006.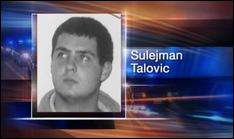 The 18-year-old used the weapon in the Feb. 12, 2007 massacre at Trolley Square mall that left five dead and four others wounded. Talovic was also killed in a shootout with police.
The deal comes as a federal judge was considering tossing the charge.
Prosecutors said Hill should not have sold the weapon to Talovic because it was equipped with a pistol grip, making it illegal for sale to anyone under 21. But Hill's attorneys argued the federal gun laws are too vague and the charge should be dropped.
Hill is one of four men charged for selling weapons to the Bosnian immigrant.
Three men charged with selling a .38 special handgun have all pleaded guilty in separate cases. Two were sentenced to a year of probation. The third is scheduled for sentencing Jan. 14.
------
Information from: Deseret Morning News,
(Copyright 2007 by The Associated Press. All Rights Reserved.)
×
Related links
Most recent Utah stories