Estimated read time: 2-3 minutes
This archived news story is available only for your personal, non-commercial use. Information in the story may be outdated or superseded by additional information. Reading or replaying the story in its archived form does not constitute a republication of the story.
TAMPA, Fla. — There was fear Tropical Storm Isaac would rock Tampa during the Republican National Convention this week; but the storm moved out Monday evening, and it's on with the proceedings.
Tuesday, the real first day of convention, promises to be a big day for Saratoga Springs Mayor Mia Love. She's scheduled to speak during NBC's primetime coverage of the event.
Love, who is also a congressional candidate for Utah's new 4th Congressional District, spent some time Monday practicing for her national debut. During rehearsals at the Tampa Bay Times Forum, she did a mic check ant got a feel for standing center stage.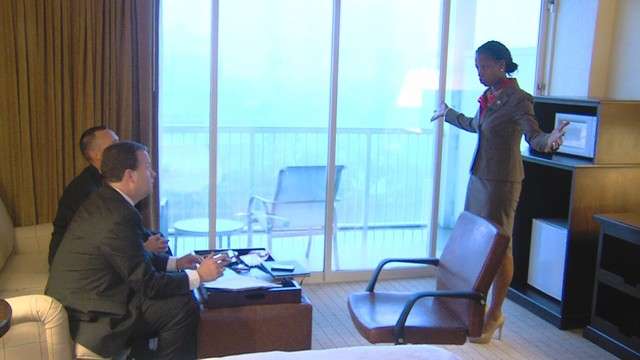 #love_pic
Love seems comfortable and confident now, but that wasn't so when she got the invitation to speak. "At first, you're like, 'Who is this really?'" she recalled.
But later, Love embraced the chance — quickly figuring out what to cram into the precious 2-minute speech window she has.
"I'm excited about it, I'm absolutely honored," she said. "It's going to be a great experience, and I hope Utah's voice will be amplified in ways that it hasn't been."
But Love has a more immediate concern as well: her campaign longtime congressman, Rep. Jim Matheson.
Related: Ryan coming to Utah
KSL has confirmed that vice-presidential candidate Paul Ryan will attend a fundraiser and reception in Utah Sept. 5. Mitt Romney will also make one more trip to Utah, sometime in October.
According to NBC political analyst Mark Murray, Love has opportunity at the same time she has an uphill fight.
"In a presidential year, when you have Mitt Romney on a ticket, a lot of people in Utah are going to be excited about the presidential contest. There might be a sense of 'that gives her a bit of an edge,'" Murray said. "Given that every poll that you actually see the Republican Party isn't doing that well among African-Americans, isn't doing that well among females, she actually provides a counter story to that."
In a way, Love faces a similar challenge to Mitt Romney: a strong core of supporters, but still fighting to close the deal in the final 10 weeks before the election.
×
Photos
Related stories
Most recent Utah stories