Estimated read time: 2-3 minutes
This archived news story is available only for your personal, non-commercial use. Information in the story may be outdated or superseded by additional information. Reading or replaying the story in its archived form does not constitute a republication of the story.
**If you know a "Smart Woman" or if you think you have an interesting Smart Woman topic, you can contact Candice at cmadsen@ksl.com.**Candice Madsen ReportingNew technology is providing a tool that could detect breast cancer years in advance, and it's a lot less invasive than a mammogram.
Breast thermography is widely used in Europe, and it's beginning to catch on in the U.S.
Thermography is a way of measuring and mapping heat with infrared cameras. Firefighters use it to see through smoke and locate people. Some doctors believe that same technology can detect temperature changes in the breast, which could signify a tumor.
Liz Hale is getting a breast exam. She says, "I'm a little embarrassed to admit this, but I hear about breast cancer and I just want to bury my head in the sand. I am frightened of it."
But her exam doesn't cause pain and doesn't involve radiation. She simply stands in front of a special heat-sensing camera. It takes a picture looking for any changes in temperature. If any hot spots show up it could be a troubling sign.
Naturopathic physician Matthew Burnett goes over Liz's test results with her. He tells her the thermography results were excellent. He believes breast thermography is especially useful in conjunction with mammography and other imaging technologies. Burnett says, "Cancerous or pre-cancerous conditions are angiogenic; that is, they require increased circulation. So a thermography can pick up a pre-cancerous condition years before a mammography would."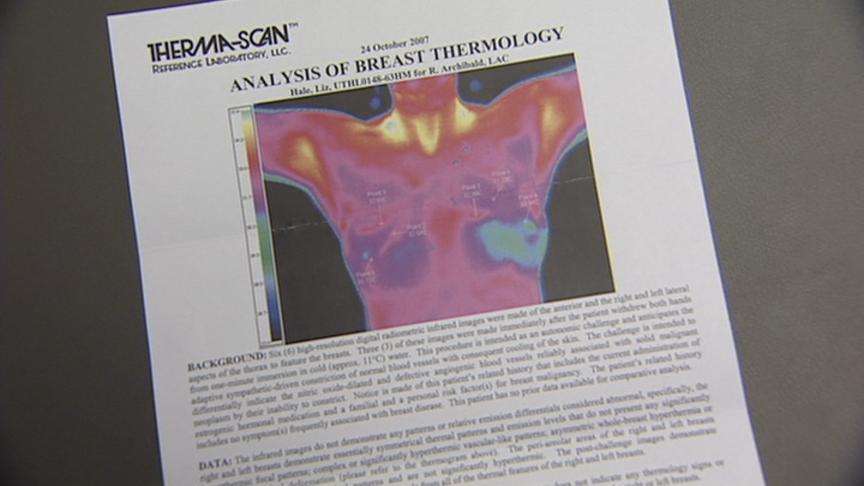 Dr. Burnett recommends women begin getting the test done in their 30s, and that makes it easier to detect cellular changes later on in their 40s. "It's a great procedure to have a base line early on, and it's not a procedure to be afraid of," says Burnett.
Thermography isn't widely accepted in the medical community: yet. The American Cancer Society believes more studies are necessary to determine if it's an effective screening tool. "It's still cutting edge, and so with anything cutting edge in the medical community it takes a while to find its place and to be accepted by insurance companies," says Burnett.
Liz views thermography as simply one more chance to catch breast cancer sooner, when she has more time to do something about it. She says, "If I could predict the signs of breast cancer five to eight years in advance, then there's something I know I can do about that, versus suddenly being hit by 'Oh no, I have breast cancer.'"
You may have recognized the patient, Liz Hale. She's a psychologist and frequent contributor to Studio 5 here on KSL.
Again, thermography should not take the place of a routine mammogram.
For more information on where you can get breast thermography, please go to the related link.
×
Related links
Most recent Utah stories