Estimated read time: 3-4 minutes
This archived news story is available only for your personal, non-commercial use. Information in the story may be outdated or superseded by additional information. Reading or replaying the story in its archived form does not constitute a republication of the story.
Ed Yeates reporting Imagine stepping inside a robotic system that fits around your body like an exoskeleton. It allows soldiers to become almost superhuman in strength and stamina.
A Utah-based company is now six years into the development of a unique robot that fits around its user so that it literally mimics every movement of its human commander. In this case, whatever the soldier needs to do, the exoskeleton follows his or her exact moves.
What you've seen in science fiction movies is now a reality. This prototype, designed and built by SARCOS, is going to become even more polished and sophisticated within the next five years.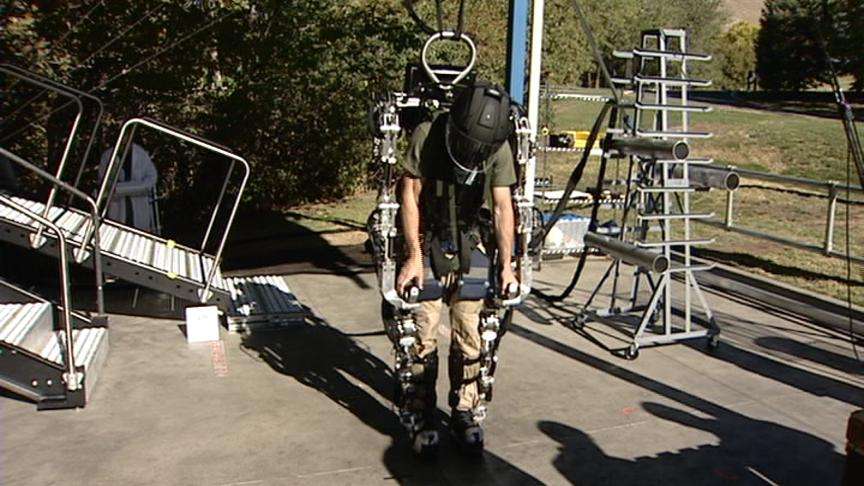 For just a moment, step out of old tanks and heavy equipment and envision a soldier who meshes with a futuristic machine that does exactly what he wants it to do.
American soldiers are well trained and physically fit. But they're still vulnerable. The human machine gets tired, needs rest, and performs only within the limitations of flesh and bones. But Rex Jameson steps inside a robotic exoskeleton that mirrors or mimics everything he wants to do.
Two-hundred pound pull-downs? No sweat!
"We did this 500 times till I got bored," Jameson said. "I could basically do it ad nauseum." And he wasn't even out of breath.
Not out of breath, no wear, no muscle pains or strains. If Rex needs to pull away from the exoskeleton to do something on his own, it just floats and waits for his return.
"I can go ahead and do whatever I need to do. When you're ready to start again, I just grab it and away we go," Jameson said.
It's taken Utah-based SARCOS six years to get to this point. But the technicians and engineers who've pulled this off have been designing and polishing robots for decades.
Imagine trying to lift 150 to 200 ammo cans that weigh 72 pounds each onto a pallet. Commanding his exoskelton, Rex does it. In a round robin, lifting 35-pound canisters, several of us -- moving as fast as we can -- can't keep up. Steve Emero of SARCOS felt so worn out he couldn't keep going. But Rex could.
Lifting 200-pound weights? Piece of cake. Walking up stairs? No problem. Running, walking on heels, prancing, taking on a ramp, the list goes on!
Meshed with exoskeleton, Rex punches a bag with just the right amount of strength. From enough grace to gently play ball, to enough super-power to load a missile on an airplane, exoskeleton does it all.
Wayco Scroggin, director of production at SARCOS, said, "He has get-out-of-the-way controls which follow from the end of the feet to the hands, and the machine will just follow where he goes."
During these experiments, the prototype is tethered. There's also a safety line as a precaution. But the end product will be portable with its own backpack power. And the skeletons, in various models, will be covered, offering different levels of protection for the soldier inside.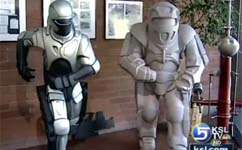 Circuitry boards for every part of the body. Flexible robotic joints that mimic every movement. Eventually, exoskeletons could even become autonomous, allowing the soldier to step out, then to go on and perform a task on its own.
Stephen Jacobsen, owner and CEO of SARCOS, explained, "If you step out of it, it becomes a humanoid robot. If you step into it, it becomes a tele-operated robot."
The SARCOS system will operate entirely on portable power within the year. Down the road, it will move into human experimentation within the Army and sophisticated tactical tests involving soldiers.
×
Most recent Utah stories