Estimated read time: 3-4 minutes
This archived news story is available only for your personal, non-commercial use. Information in the story may be outdated or superseded by additional information. Reading or replaying the story in its archived form does not constitute a republication of the story.
SPANISH FORK — Sheriff Robert Dekker considered Josie Fox to be family. Now he and those who loved her are mourning again, believing the man acquitted of killing her is getting away with murder.
Late Friday night, a jury decided that there was not enough evidence against Roberto Roman to find him guilty of murder, leaving an entire community in shock.
"It's kind of slap in the face to all of us, but on the other hand, that's the country we live in, that's the system we have and this time maybe the system didn't work for us," said Sheriff Robert Dekker.
Late last night, family and friends of Josie Fox walked out of the courthouse stunned that Robert Roman was found not guilty. From anguish to anger, they couldn't hide their emotions.
"I just want to say I'm really glad that Judge Eyre got him off," Doug Fox, husband of the Josie Fox, said sarcastically. "He wouldn't let nothing go through."
Fox's husband was upset about evidence the judge ruled the jury could not hear and couldn't believe jurors who watched Roberto Roman confess on video the day after his arrest did not find him guilty.
"He admitted that he done it," Fox said. "You know that flat out tells you he's guilty."
In-depth:
Even though jurors heard Roman confess on videotape, they ultimately believed what he said on the witness stand, at least to the degree it raised reasonable doubt about his guilt.
Roman took the witness stand in his own defense and testified it was Ryan Greathouse who shot his own sister after the two of them traded meth on the night of Jan. 5, 2010. Roman says he confessed to killing Deputy Fox, out of fear Ryan Greathouse would harm his children.
"I think Roman's testimony is what this case is all about," said Steve McCaughey, an attorney for Roman. "He had a confession he had given earlier and he explained why he gave that confession. He explained that to the jury. I think they looked at that and the other evidence and they came to the conclusion they did."
Greathouse died four months after his sister in Las Vegas of an apparent drug overdose, leaving prosecutors unable to refute Roman's story. As jurors left the courthouse under heavy guard, they declined to talk to reporters. However, the foreperson, Nicole Kay, later spoke exclusively to KSL and acknowledged Roman's testimony was a major factor in his acquittal.
The jury clearly struggled with their decision but said there was a lack of evidence pointing to Roman as the killer.
"We wanted to know who pulled that trigger," Kay said. "There was such an absence of evidence on Ryan Greathouse and anything on that at all, and at the end of the day we couldn't rule out the possibility that it could have happened."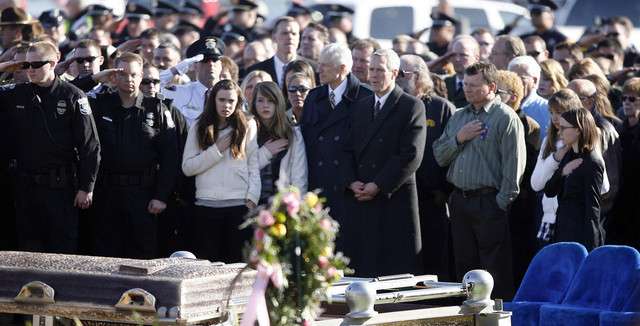 She described difficult deliberations. It took eight hours before everyone could make a unanimous decision.
"We started off, the majority of us, thinking he was guilty of count one as well," Kay said. "After a lot of deliberation and holding out, and me being the last person, we finally had to come to the conclusion that there was still reasonable doubt in our minds."
The sheriff admits it will take a long time to get over the verdict, but says a roadside memorial will ensure deputy Josie Fox is never forgotten.
"We'll go on, the community will continue to grow together and be together," Dekker said. "That's the kind of people we have here and it's exactly, I think, what Josie would have us do to continue on as a family."
Roberto Roman was found guilty of two lesser crimes: evidence tampering and illegal possession of a firearm. He is still in jail and could face a maximum of 10 years in prison, but he's already served two and half years. At this point it is difficult to say how much longer he'll stay in custody.
×
Photos