Estimated read time: 5-6 minutes
This archived news story is available only for your personal, non-commercial use. Information in the story may be outdated or superseded by additional information. Reading or replaying the story in its archived form does not constitute a republication of the story.
SALT LAKE CITY — On Tuesday we gave you five films you can become a blubbering baby during and still feel like a man. Today, we're taking a different approach. Today, we're looking at five films when crying isn't acceptable.
Well, maybe it's acceptable, but if you admit to it or are caught doing it, your man card may be revoked. However, if you keep your sissy spectacle just between you and your girl, it may pay some great dividends. So, here are five films that if they made you weep, you should keep it between you and your lady friend.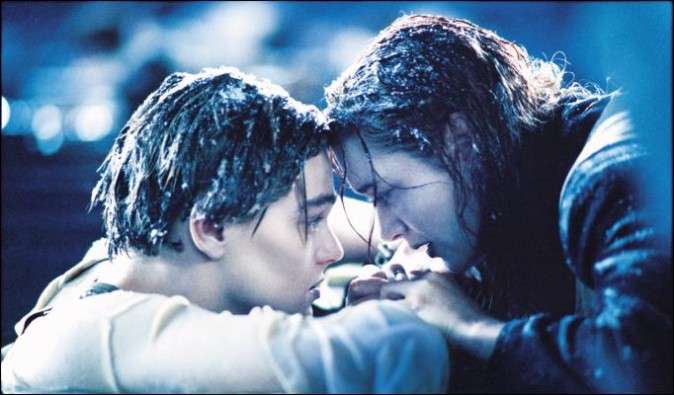 Did you really think this wouldn't be on the list? From the moment the film starts you pretty much knew Jack was a goner. The poor kid from America never stood a chance against the ship he "luckily" won a ticket aboard. James Cameron wrote Jack with one thought in mind, "Man, I'm gonna make people cry their eyes out." And you know what? It worked.
#poll
So, when you shed a few tears after watching "Titanic" for your 47th time, wipe away those tears and text your buddy, "That was lame. You could have fit two people on that floating door."
Alright guys, if you've seen this you may have cried, but you probably want to keep that quiet. It's never manly to bawl your eyes out during a movie that was specifically made to make you bawl your eyes out. This movie is literally the epitome of a "chick flick," but that also makes it tricky.
Guys, if you watched this alone in your basement under a blanket with a pint of Haggen Dazs, you take that to your grave. If you watched it with a girl and cried, you can tell your buddies it was to make the girl think you have a heart of gold, and not because in your mind you were saying "Jamie and Landon will be in love forever."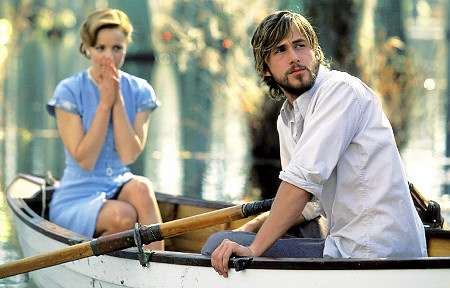 This movie is right up the alley of "A Walk to Remember." It was written with the purpose of making women across the world fall madly in love with Ryan Gosling and cry until there were no more tears to cry.
From a guy's perspective let's break this down. First off, if you're the James Marsden character, you just got royally screwed. You fell in love with this woman and she rips out your heart, feeds it to her dog and then tosses it in the recycling bin. If you're the Gosling character you're just a jerk, because you just let a girl rip out a dude's heart, feed it to her dog and then toss it in the recycling bin.
I know people find this story to be an epic romance, but if a man cried at this and it wasn't to score points with the ladies, you're either a glutton for punishment or a terrible person. So, take your pick.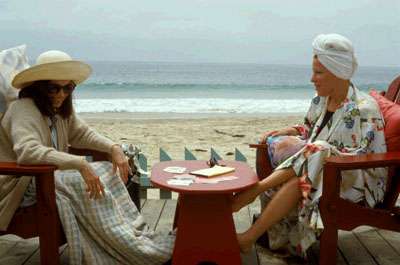 "Beaches" is a movie specifically made for women because it has everything they love: strong women, love stories, enduring friendship and someone dies. I understand the strong women part and the romance part, but why does someone always have to die?
Anyway, dudes, if you cried at this movie my guess is you did it because you were trying to figure out what on earth was going on.
The reason we're not giving you much leeway on this flick fellas is because this is a movie for the ladies. They love it, it was made for them, much like how "Predator" or "Rambo" was made for you.
The fact that women sob over this film when it ends makes sense, you sobbing, however, that's an anomaly.
Remember when I said "A Walk to Remember" and "The Notebook" were made to make people cry, well, this one takes the cake. I'm not sure this movie serves any other purpose than to get you to cry.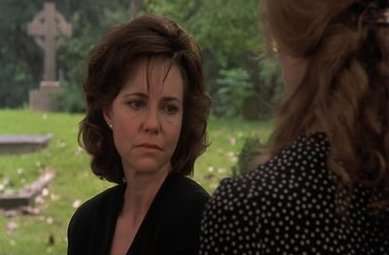 "Steel Magnolias" is another double-edged sword, cry during it and you're ridiculed by your own kind, don't shed a tear and women across the world will put you on the same level as ruthless dictators and murders. Like I said, a double-edged sword.
How do you get around this? Simple, if a girl or your wife wants to watch it say, "I'd love to babe, but it hits so close to home that it's hard for me to watch it again. I love the movie, but I'm just not sure I can handle that emotional intensity again."
Whether it's true or not, she should be appeased and depending on who heard you say that your man card should stay in your pocket.
There you go men. Approach these films with caution and be careful who you confide in about your weeping ways.
What do you think? Would you have these on the list? What did I miss? Do you think I'm a horrible person for saying that men shouldn't admit they cry during certain movies? Whatever your opinion is lay it on me. Post them on the comment boards, Facebook or feel free to email me.
×
Related links
Related stories
Most recent Features stories