Estimated read time: 2-3 minutes
This archived news story is available only for your personal, non-commercial use. Information in the story may be outdated or superseded by additional information. Reading or replaying the story in its archived form does not constitute a republication of the story.
AUSTRALIA — Assume you are a billionaire who loves movies and your billions make you more billions. Now imagine that you used some of those billions to build a replica to the Titanic and it will set sail in 2016. Now that you have unlimited wealth, the Titanic II and a bunch of free time to watch movies, what are you going to do now? Make a real Jurassic Park of course.
Australian billionaire Clive Palmer is currently building the Titanic II and now he supposedly has his eyes set on a real-life Jurassic Park.
#poll
Kathy Sundstrom of Australia's Sunshine Daily Coast reported that someone in Palmer's inner circle claimed the controversial billionaire is planning on using dino DNA to clone real dinosaurs and place them on his Palmer Coolum Resort in the Middle East.
Sounds awesome right? Well, sounds awesome if you haven't seen the 1993 blockbuster. In case you don't remember, things did not turn out well for John Hammond's dino park. If we think recreating dinosaurs for our amusement is a good idea let's remember Dr. Ian Malcolm's (Jeff Goldblum) words, "If The Pirates of the Caribbean breaks down, the pirates don't eat the tourists."
It's clear Palmer loves to tempt fate, he's building Titanic II and sailing along the original doomed cruise liner's exact course for crying out loud. But, even if an actual Jurassic Park sounds somewhat ludicrous, leave it to Palmer to create it.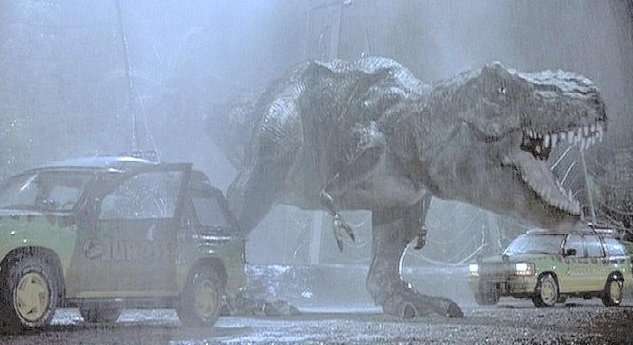 Maybe I am jumping to conclusions, perhaps Palmer has studied Jurassic Park the book and the movie and knows what to avoid. For example, hopefully he will not put Ford Explorers on tracks, have a single program that will shut off all power to the park with no back-up generators or hire anyone named Dennis Nedry.
If he's taken those precautions and the folks who made Dolly the Sheep can recreate a dinosaur, maybe the real Jurassic Park can be a real treat and possibly feature some dinosaurs that actually lived in the Jurassic period.
Palmer has kept quiet about the rumors of the dino park and apparently declined to answer any of Ms. Sundstrom's questions, but again, if it is true, it's not all that surprising Palmer is trying to pull it off.
Would you visit a real Jurassic Park? Do you think it's really even possible? Tell us on the comment boards and on Facebook.
×
Related links
Most recent Features stories