Estimated read time: 2-3 minutes
This archived news story is available only for your personal, non-commercial use. Information in the story may be outdated or superseded by additional information. Reading or replaying the story in its archived form does not constitute a republication of the story.
SALT LAKE CITY — Be careful what you put up your nose — it might get stuck there.
At least, that's what happened to 6-year-old Isaak Lasson, who was playing with LEGO toys years ago when apparently one found its way into his nose, although he doesn't remember ever having put it there.
His parents believe the toy had been there since Isaak was 3-years-old, based on when he began experiencing horrible sinus problems.
"I felt so bad," said Craig Lasson, Issak's father. "He was sleeping with his mouth open, trying to breathe."
Numerous visits to the doctor over the course of three years did nothing — the Lassons were told numerous times to put their son on antibiotics, and he would be fine. But finally, at the end of July, an observant doctor noticed something strange: Isaak seemed to have a foreign body up his nose. The doctor asked him what it might be.
"I put some spaghetti up there, but that was a long time ago," Isaak told the doctor.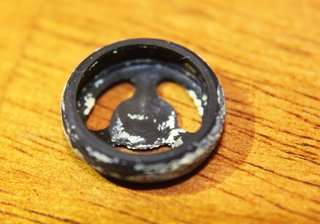 An appointment with a specialist yielded a ball of fungus, which in turn was found to be encasing what Isaak's parents believe to be a flexible LEGO tire. And it was big.
"I asked him, 'Dude, how did that even get in there?'" Lasson said. "We think he bent it in half — it's pretty flexible — and that it opened up once it got into his sinuses."
Lasson said since the doctor appointment a week and a half ago, Isaak's appetite has improved, he has more energy and is sleeping soundly.
"You ask yourself, 'Am I a bad parent because I didn't catch it sooner?' But the doctors just kept prescribing antibiotics," he said. "We just didn't know."
He said the family laughs about it, now that Isaak is healthy.
"It's just one of those weird things," he said. "Isaak thinks it's pretty cool. He said, 'I didn't even know … this is weird.'"
×
Photos
Most recent Utah stories