Estimated read time: 2-3 minutes
This archived news story is available only for your personal, non-commercial use. Information in the story may be outdated or superseded by additional information. Reading or replaying the story in its archived form does not constitute a republication of the story.
Kerry Barrett reportingYou may remember our story yesterday concerning the lax animal protection laws in Utah. One local woman says she's known that all along, and she's trying to do something to keep all animals safe.
Some view farm animals as simple commodities. But others say that couldn't be further from the truth. So one woman decided to start a unique kind of animal rescue in which farm animals become family friends.
Morning arrives early on the Ching Farm Animal Sanctuary. So does the work.
Volunteer Sarah Hope works at everything from feeding and watering the animals to cleaning stalls -- anything that needs to be done.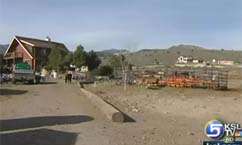 Hope has been volunteering for a year. She does it because she loves the animals.
Faith Ching started the sanctuary about nine years ago, rescuing animals used in experimentation who were abused or slaughter-bound. She believes it's the right thing to do for animals that spent their lives literally working their hooves to the bone. Here they're the "old folks."
Ching said, "We provide them a safe haven where they can hopefully die of old age, safe, happy and spoiled."
Which for a bovine named Ferdinand was better than the alternative. "Ultimately he would have ended up on someone's dinner plate," Ching said.
It's the same for another animal that was thrown away, Ching says, because of a little limp. "So he has a little arthritis. So do I!" she told us.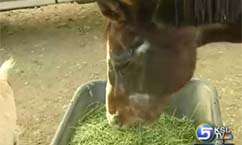 Or Nondi, or Mr. and Mrs. Large. Each animal has a story; each has a personality. Many arrived in dire straights.
"Animal abuse is rampant. A lot are treated as commodities, or worse," Ching said.
For her, the question is not how much money can they bring, but how they feel.
"They wag their tails when they're happy. Just like a dog," Ching said. "I get a big reward getting them to be friendly like this."
When a lot of these animals get here, they're afraid of humans. But that's really not a problem.
We showed up shortly after the Halloween pumpkin drive,a tasty treat that sends goats like Gidget scrambling for more. She's a feisty, funny little gal, and one of the many Sarah says taught her a thing or two about creature comforts.
"They're just so grateful," Hope said. "Like Nondi [the goat] up there. He eats out of my hand. And they're just so loving and so different than what you always hear. De-horn them because they're mean or they'll get you. They're just not like that at all."
The sanctuary houses all kinds of animals -- ostriches, emus, goats, pigs, sheep, horses, donkeys, cows -- the list goes on. It's the only farm animal sanctuary in Utah. It does adopt some out, but the focus is really on the sanctuary end. And it's always looking for volunteers. If you're interested, we've included a link to the sanctuary Web site on this page.
×
Related links
Most recent Utah stories