Estimated read time: 3-4 minutes
This archived news story is available only for your personal, non-commercial use. Information in the story may be outdated or superseded by additional information. Reading or replaying the story in its archived form does not constitute a republication of the story.
John Hollenhorst reporting In spite of the screenwriters strike, the bright lights came on in Hollywood this week to help a couple of thousand animals in Utah and around the world.
It never hurts to have "best friends" in Hollywood, especially if you're trying to raise money. And that's what it's all about: a Utah organization called Best Friends, some Hollywood glitz, and a bunch of dogs and cats.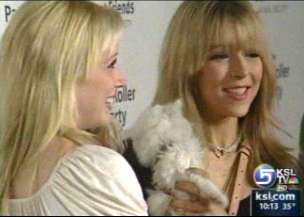 Welcome to Glitter Gulch -- celebrities, wanna-be's, and used-to-be's. Primping and preening for the paparazzi. This time, the acting crowd was out on the town with animals.
Jason Gray-Stanford, co-star of "Monk" said, "I'm absolutely thrilled to be here, being a pet owner and a pet lover."
It might not strike you as having anything to do with Utah, until you run into a movie-type who wants to visit.
Kristina Klebe, "Halloween" co-star, said, "I mean, the place in Utah I've only seen from photos, but I would love to go!"
Some have actually made the trip.
Lisa Edelstein, "House M.D." co-star, said, "I was very moved by what they're doing."
The place they're talking about is a sprawling complex in a canyon near Kanab. It's the Best Friends Animal Sanctuary. For two decades the center has been providing homes for unwanted dogs and cats.
Gregory Castle, co-founder of the Best Friends Animal Society, said he does it "because so many animals, sadly, are destroyed simply because they're not wanted."
It was founded in 1984 on a tiny budget by members of a small religious group. "We really didn't know what it was going to become. We wanted just to help animals as much as we could, and as many of them as we could," Castle said.
Now it's grown into a worldwide effort. Thousands of volunteers come to Utah to help out with animals.
Best Friends has done animal rescues in crises like Hurricane Katrina, the Peruvian earthquake and the battle of Beirut. Of course, it takes a lot of money to run a place like this, and that's where the bright lights and deep pockets of Hollywood come in.
The Best Friends annual Hollywood fundraising party invited oldtimers like Peter Falk, "Columbo", and some newcomers.
Oscar Torre, "Cane" co-star, said, "It's a great thing, a great thing. That's why so many people show up. Great event."
It may not be Hollywood's A-list, but some of the names are big enough to raise the organization's profile. The Hollywood angle has helped turn Best Friends into a $30-million-a-year operation.
The event also provided a forum for the Best Friends message from long-time actor Robert Culp. He said, "The pounds around the country would be nearly empty if people served their pets properly."
Best Friends is not without critics. Some say it saves only a few thousand animals, while sucking away funds from organizations that have to deal with, and often kill, millions of homeless pets. There's also a persistent cult theory that The Process Church is still calling the shots. The founders deny it; they say the only connection with religion is a value most religions share: respect for life.
×
Related links
Most recent Utah stories