Estimated read time: 2-3 minutes
This archived news story is available only for your personal, non-commercial use. Information in the story may be outdated or superseded by additional information. Reading or replaying the story in its archived form does not constitute a republication of the story.
Sarah Dallof reporting The cost of college isn't going anywhere but up. With tuition, fees, housing and books the price for a semester can be overwhelming. But a group of student leaders is asking legislators to give them a break.
The students want to stop paying sales tax on textbooks. On a law textbook worth $100, that would save them just under $7. It may not seem like much, but when you're a starving student, every dollar counts.
No math class needed; textbooks add up fast. "I spent, last semester, $700 on textbooks," explained Marko Mijic, ASUU director of government relations.
Justin Davies, executive vice president at UVSC, said, "I spend anywhere between $300 and $500 for books."
With book requirement stacked on top of book requirement, the price is sometimes just too much. "Some students choose not to buy a textbook for a class at all because they can't afford it," explained Shane Girlton, of the University of Utah bookstore.
Realizing the problem, since it's one they too are faced with, student government leaders from Utah State to Southern Utah University are asking legislators to help them out and eliminate sales tax on textbooks completely.
"We're doing petitions on every campus. We're close to 15,000 signatures. Our goal is 30,000 by the time the session starts," Mijic said.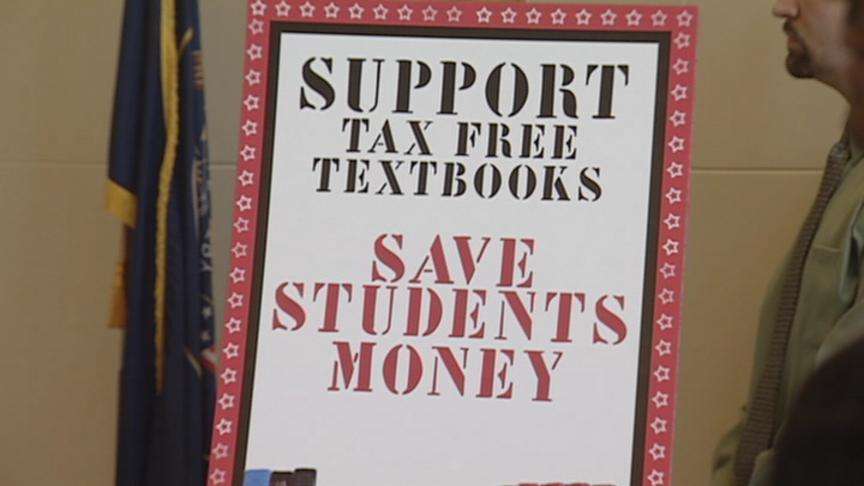 Right now the bill only covers textbooks, but the student leaders would like to see it apply eventually to anything required by a professor. For example, if a math professor needed you to buy a special calculator.
According to several sources, including The Higher Education Project, the average cost of textbooks per year is $900. That works out to an average savings of $60 per student.
"I realize that it's not a lot of money. It's more moral support. The students know we're fighting for them, the Legislature is looking out for them," Davies said.
The bill has a sponsor and will be presented this legislative session. If all goes their way, student leaders hope to be giving the tax break by fall 2008.
×
Related links
Most recent Utah stories