Estimated read time: 1-2 minutes
This archived news story is available only for your personal, non-commercial use. Information in the story may be outdated or superseded by additional information. Reading or replaying the story in its archived form does not constitute a republication of the story.
Deanie Wimmer reporting Hackers have found a new way to invade your computer and steal your identity. In fact, they already may have without you knowing it.
The intruders silently infiltrate and take over your computer. One way they're finding access is through social networking sites, like Myspace.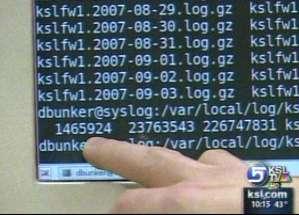 Here's how it works: A "friend" on a social networking page would ask you to link to another page. Click it, and invite a malicious program onto your computer.
Pete Ashdown, president of Xmission, said, "It's a pervasive threat. It's an automated threat the attacker can launch very easily."
Seth Rogers said, "Every time I check my Myspace page, which is daily, I have people who are not on my list trying to add me. I have no idea who these people are."
An estimated seven percent of computers--millions of them-- are infected with malicious software. They allow hackers access to your personal information or they use your computer to host fraudulent Web sites.
Then hackers turn around and sell the PIN numbers or network access.
KSL's network administrator, Devin Bunker, said, "These computers are at the disposal of whoever has written this program."
He set up his computer screen to illustrate this problem, real time. Each bump, signifies someone looking for vulnerabilities in the KSL network. Yesterday there were almost 1.5 million attempts.
"It's not some random, once in a million years someone tries to access your computer. You're looking, it's a barrage, constant attempts of people trying to access your computer," Bunker said.
You're also at risk if you have game systems hooked up to your home network. To Stay Safe, use firewalls and antivirus programs to protect your computer. Apply updates often, and be selective before downloading things, especially video players.
×
Most recent Utah stories