Estimated read time: 3-4 minutes
This archived news story is available only for your personal, non-commercial use. Information in the story may be outdated or superseded by additional information. Reading or replaying the story in its archived form does not constitute a republication of the story.
John Hollenhorst reportingResidents of the polygamist community headed by Warren Jeffs receive food stamps and taxpayer-funded medical care at rates many times higher than the rest of us.
An Eyewitness News investigation raises questions about whether they get more than they're entitled to.
In Warren Jeffs' territory, it's not uncommon for one family to consist of several wives and dozens of children. People often wonder, "How can they afford such large families?" The short answer is, they get lots of help from you, the taxpayer.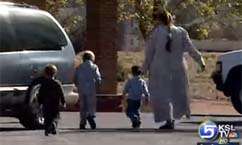 It's no secret that it takes a lot of groceries to feed the typical family in this community. But even a long-time resident was surprised when we told him how reliant the polygamist community is on food stamps.
Former FLDS Church member Richard Holm said, "To have those kind of ratios, it's just wrong. It's sick and wrong in my view."
Holm was kicked out of the FLDS Church when Warren Jeffs came to power. But as a long-time resident he's familiar with one key fact: Most residents are kids.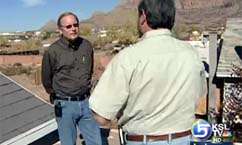 "People are encouraged to have large families. I think the median age in this community is probably unique in America," he said.
On the Utah side of town, the median age is 13. Across the street in Arizona, it's 14. The national median age is 35!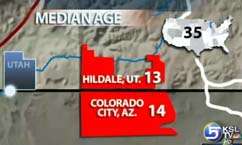 To feed that local surplus of kids, it helps if you can pay the bills with a taxpayer-funded Horizon "food stamp" card. State officials administer the program using federal dollars.
Curt Stewart, of the Utah Department of Workforce Services, said, "It's something they decided years ago, that people need to eat. And the best way to do that is to somehow subsidize their income."
Food Stamp Benefits
Hildale -- 847 recipients -- 43.4%
Colorado City -- 1,782 recipients -- 44%
Utah recipients -- 4.8%
Of roughly 6,000 residents in the twin towns, more than 2,600 get food-stamp benefits. That's about 44 percent of the population, almost 10 times Utah's statewide number of 4.8 percent.
"I think it would be hard for them to survive without those benefits," Stewart said.
The flow of tax dollars contradicts one of the founding myths of the community, that people of God could become self-sufficient through their United Effort plan.
Richard Holm said, "I think it's a shame. It's a shame on the community to have that kind of a reliance on the food stamp program."
It's also way above average on Medicaid benefits for the poor.
Receiving Medicaid Benefits
Hildale 51%
Colorado City (no data)
Utah 6%
Arizona wouldn't give us data. But on the Utah side, 51 percent of Hildale residents get Medicaid benefits compared to 6 percent statewide.
Cost to Taxpayers
Food stamps $2.4 million
Medicaid $6.6 million
Total: $9 million
We conservatively estimate it costs taxpayers at least $9 million a year just for food and medical benefits. Are the benefits legitimate? Eligibility is based on household income and family size.
"The household is defined as a group of people who sit together in a house and eat meals together," Stewart explained.
But critics say some husbands divide their family, on paper, into subgroups of wives and children so they qualify separately for benefits. Richard Holm says he's been offered food as barter for goods and services, suggesting somebody had food they didn't really need.
Stewart said, "We've gone in there a couple of times. But we've not found anything that is above the average of any other area, as far as fraud and abuse."
But two long-time residents say they can't remember any welfare investigator ever coming around and asking questions. Whether the aid is legitimate or not, it's clear that taxpayers are subsidizing a lifestyle many disagree with.
×
Most recent Utah stories