Estimated read time: 5-6 minutes
This archived news story is available only for your personal, non-commercial use. Information in the story may be outdated or superseded by additional information. Reading or replaying the story in its archived form does not constitute a republication of the story.
DAGGET COUNTY — Did you know there are world- class lake trout lurking in Utah, reaching sizes most anglers only dream of? The current state record is a 51- pound beast caught in 1988, and unofficial catch-and- release records hover near the 55-pound mark. This puts Utah in an elite class of lake trout fisheries worldwide, joining Northwest Territories' Great Slave Lake and Great Bear Lake, where the current lake trout world record resides.
While large lake trout can be found in Fish Lake, there's only one place in Utah to hook into a true monster: Flaming Gorge Reservoir. Created during the great Western dam rush of the '50s and '60s, the 91- mile long reservoir is Lake Powell's stateline- spanning cousin to the north. Covering more than 40,000 acres, it holds lake trout, brown trout, rainbow trout, kokanee salmon, smallmouth bass and more.
Lake trout originally entered Flaming Gorge the old fashioned way — by swimming into it. Having been stocked in lakes and reservoirs upstream in Wyoming, they worked their way down the Green River system and found a welcome home in the Gorge. Although they were initially unexpected guests, they are now managed as a trophy fishery and have become a crown jewel of Utah angling.
I've fished the Gorge a handful of times over the years and have never landed a lake trout over 20 pounds. To learn more about catching a monster, I turned to Ashley "Ash" Bonser, a local guide who caught and released a 54-pound lake trout last year.
Ash runs Addi ctive Fishing, LLC and has spent years mastering the art of trophy lake trout fishing. He lives lakeside in Manila, where most of the Gorge's guides are based. It's a pleasant little town with a handful of motels, restaurants and gas stations lining the main drag.
For this trip, Jen and I decided to forgo the usual motel experience and instead booked a room at R Hideout, which is undoubtedly Manila's most comfortable lodging. Our cabin-style suite didn't disappoint — it boasted a comfy sitting room, log furniture, two 32-inch flat screen TVs, free Wi-Fi, a fridge, a microwave, outdoor gas grills and a king size bed.
While R Hideout may cost a bit more than Manila's motels, we found it well worth it because we were able to get such a great sleep. We woke up at 4:30 a.m. in order to prepare for the day and meet Ash at the boat ramp, so our extra-quilted mattress was much appreciated.
As we headed out on the Gorge with Ash, he told us more about the 54-pound monster. Like nearly all of the trophy trout he's targeted over the years, he caught it using a vertical jigging technique. The lunker laker was 48 inches long and had a 33-inch girth. Lake trout live much longer than other trout species, and Ash estimated this one was pushing 40 years old. The most important detail of the story: After a quick photo he carefully released his fish back into the water.
Though some fishermen would find it difficult to release a state record-breaking fish, the practice is essential to the Gorge's continued success. "There's no other lake trout fishery in the lower 48 where you can catch a 50-pounder," says Ash. "But the lake trout have a bumpy road ahead if people don't get on board with catch and release. If they do, it will be a world-class fishery for years to come."
---
There's no other lake trout fishery in the lower 48 where you can catch a 50-pounder.
–Ashley "Ash" Bonser
---
The Gorge has developed a sterling reputation and anglers come from all over the country for the opportunity to land a once-in-a-lifetime trophy. Twenty-pounders are common, 30-pounders are caught regularly, and 40- and 50-pounders, though much more difficult to catch, are present in decent numbers.
Ash is proud to practice 100 percent catch and release. And he doesn't stop there. He volunteers with the Division of Wildlife Resources to help regulate the Gorge's newest invasive species: the burbot. Burbot are an eel-like fish that also have a barbel (whisker) similar to a catfish. Illegally introduced to the Gorge, the voracious predators are threatening multiple species of sport fish.
Ash is the only Flaming Gorge guide who regularly targets burbot. In open water, he uses a vertical jig presentation similar to lake trout tactics. He uses glow in the dark jigs because the best burbot fishing is done at night. Once the lake freezes over, Ash and his clients enjoy excellent ice fishing for burbot up to 40 inches long.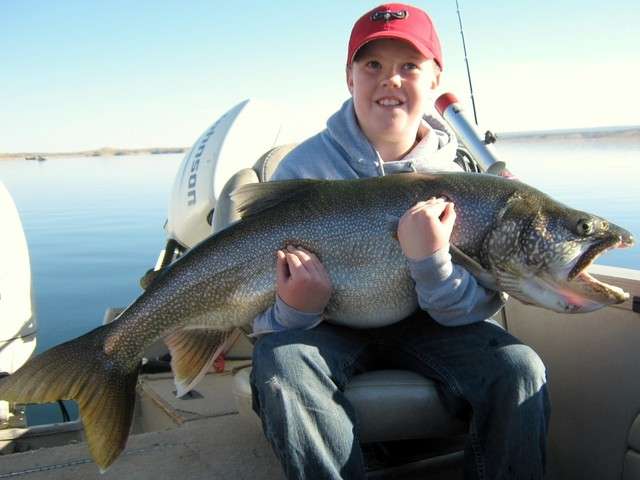 Due to their negative ecological impact, there is no limit on how many burbot you can keep. And when you catch and keep one, you're not only helping to preserve the Gorge, you're also getting one of the most delicious freshwater fish in the country. Many people consider burbot's flavor comparable to lobster and it is a delicacy in some areas.
Drawing upon his extensive experience with burbot, Ash works with the DWR to study their impact and manage their numbers. He helps with the gillnetting and other initiatives. In the process, he's gleaned a lot of information from DWR experts that has helped him become a better angler. It's also given him a stronger appreciation for all the great work the DWR is doing to preserve the Gorge. According to Ash, "People don't realize how much they do behind the scenes to make this fishery what it is."
Ash feels that Flaming Gorge's future is bright, and our fishing experience with him seems to validate this prediction. We caught more than 25 fish and were thoroughly impressed with the health of the fishery. While we didn't land any trophies, Jen and I had the time of our lives and both caught personal bests.
So can Flaming Gorge hang with the biggest lake trout fisheries in the world? Absolutely, says Ash. "This lake has the potential to take the world records from Great Bear Lake and Great Slave Lake as long as we can get people to realize the importance of catch and release."
To learn more about fishing and exploring the Gorge, visit www.flaminggorgecountry.com/fishing. Who knows? Maybe you'll catch the monster that brings the world record to Utah.
×
Photos
Related links
Most recent Utah stories