Estimated read time: 2-3 minutes
This archived news story is available only for your personal, non-commercial use. Information in the story may be outdated or superseded by additional information. Reading or replaying the story in its archived form does not constitute a republication of the story.
SALT LAKE CITY — After weeks of speculation regarding the future of the Utah-BYU rivalry, it looks like the annual game between the red and blue will be put on hold for at least two years.
Utah athletic director Chris Hill released a statement Tuesday that said that the Utes and Cougars will not play in 2014 and 2015.
#poll
The reason? Opportunities to play other opponents. And not just on the road or with a two-for-one deal, but acutal home and home series with national powerhouse teams.
The Utes recently scheduled a home and home series with Michigan — in Ann Arbor in 2014 and the return trip to Rice-Eccles in 2015. It was an opportunity that Hill felt like, "we would not have envisioned even a few years ago and felt we could not pass up."
"When we joined the Pac-12 Conference, we knew there would be opportunities for Utah athletics that were never available before," Hill said. "A home-and-home series with Michigan is an example of something that."
Hill made it clear that this doesn't signify the end of the rivalry by any means. Contracts for a 2013 game in Provo and a 2016 game in Salt Lake City are currently pending.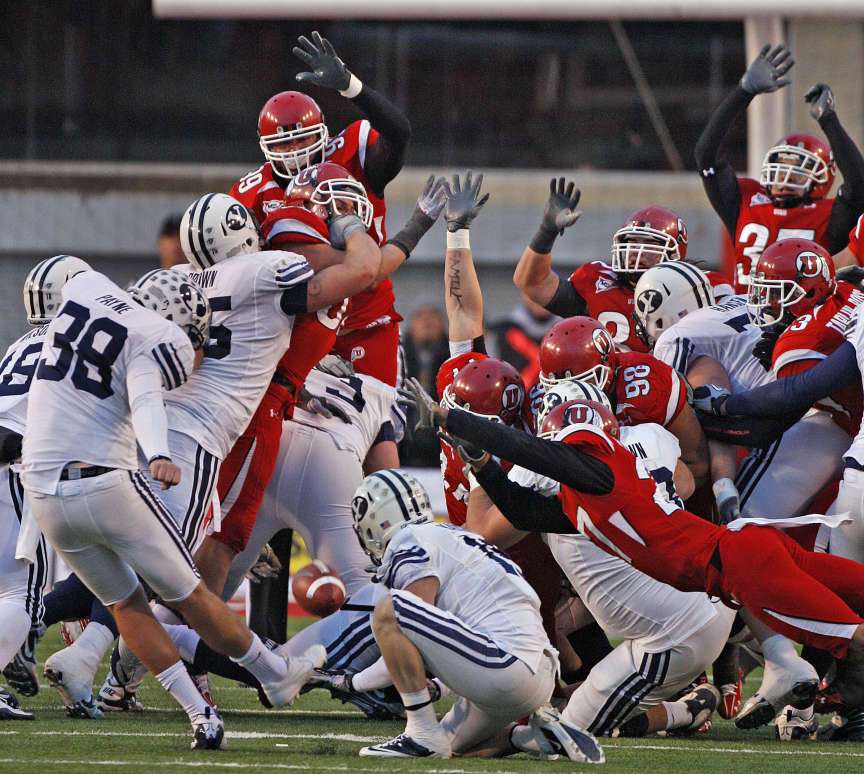 "We are solidly committed to play BYU in 2013 and 2016 and are close to finalizing a contract," Hill said.
But with the games scheduled against the winningest program in college football (Michigan) scheduled in 2014-15, it didn't make sense to make an "already tough schedule that much tougher, and I did not think it was fair to our football program to schedule BYU on those years," Hill continued.
According to KSL's Greg Wrubell, "BYU has more flexibility (as an independent) than most programs to 'schedule wins.' Utah's ability to do the same is much more limited, and scheduling BYU is not the way to do it."
"Our intent is to continue to schedule BYU unless unusual circumstances dictate otherwise," Hill said. "In no way does this signal an end to the rivalry."
Hill also said that the Utes have bought out of their 2014 trip to Utah State. The Utes and Aggies will meet on Sept. 7 in Logan, and then 2013 and 2015 in Salt Lake City.
The Deseret News is also reporting that Utah and Utah State have scheduled a four-year agreement in basketball that begins in 2014.
×
Related stories