Estimated read time: 2-3 minutes
This archived news story is available only for your personal, non-commercial use. Information in the story may be outdated or superseded by additional information. Reading or replaying the story in its archived form does not constitute a republication of the story.
Amanda Butterfield reporting Police have arrested a man they believe murdered a BYU student more than three decades ago. Although the murder happened in Salt Lake County, the arrest was made in Tacoma, Washington.
The victim's mother is obviously happy. "He said, 'Ulger, I just want to tell you we've arrested Hicker for murder.' Then I said, 'Hurray.'"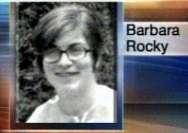 Gerald Hicker never turned his face toward the cameras as he entered a courtroom in Washington State today. Hicker is charged with the murder of a BYU student back in 1974.
Salt Lake County Sheriff James Winder said, "We are thrilled miss Barbara Jean Rocky has finally received justice."
Sheriff Winder is sure Hicker is the man who shot Barbara Jean Rocky five times and left her for dead in Big Cottonwood Canyon. "For 33 years Mr. Hicker has lived with this sin over his head," he said.
Even in '74, Hicker was a person of interest in the murder.
Sgt. Chris Ownby said, "Mr. Hicker was the one who reported Ms. Rocky missing, they were friends, both went to BYU together."
Hicker also taught Rocky to shoot an Astra .357 caliber six round revolver. Crime lab results show her fatal wounds likely came from that gun. But still, Hicker was never arrested.
Sgt. Ownby said, "Back in '74 there wasn't any DNA testing at the time. There wasn't sufficient evidence to link him to the crime scene, at the time."
For the past seven years, a Salt Lake County investigator has been working to crack this cold case. The answer came after a 33-year-old soil sample from the crime scene was retested. A piece of human tissue was discovered, such as a piece of skin or fingernail.
Sheriff Winder said, "That DNA sample matched the profile of Gerald Hicker."
Investigators knew Hicker was living in Tacoma, Washington. That's where he was arrested.
"The fact of the matter is the clock was ticking for 33 years, and it finally struck," Sheriff Winder said.
Hicker will soon be returned to Salt Lake to face murder charges. No motive has been revealed, and the murder weapon has not been found.
×
Most recent Utah stories