Estimated read time: 2-3 minutes
This archived news story is available only for your personal, non-commercial use. Information in the story may be outdated or superseded by additional information. Reading or replaying the story in its archived form does not constitute a republication of the story.
Sam Penrod reportingIn an age of high fuel prices, why didn't anyone notice thousands and thousands of gallons of gasoline disappearing into the ground?
Lila Lee Christensen, owner of a dress shop in Gunnison, said, "It's unbelievable they could lose that much fuel and not be concerned about where it had gone."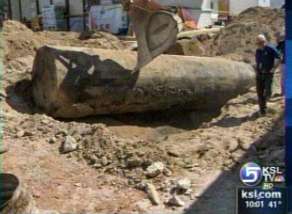 What happened could be an environmental and economic disaster for that community. The gas leak happened at a Top Stop station in July and now it is threatening Gunnison's small business district, including that dress shop that was the heart of downtown, which is now closed for good.
Christensen is taking inventory of hundreds of dresses for weddings, proms and formals at her business that has been there for 57 years. She is being forced to shut down. "My business is gone, my building is gone, everything is gone; my legacy, my family business, everything, it's gone."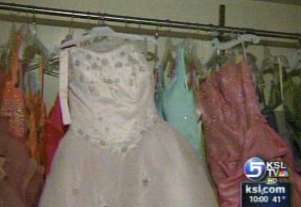 The problems began in July when she became sick by going to work. "There were fumes in my basement that were so strong that I couldn't be in my store," Christensen said.
In August she called state officials who determined the fumes were coming from gasoline seeping into her basement, which was leaking from an underground tank at a nearby convenience store.
Christensen said, "The people at Top Stop had a fuel problem, and it was leaking and the fumes and gas was coming across the street and into my building."
The gas station was immediately shut down and the tank was dug up, revealing fuel that had traveled underground into the basement where Christensen had her prom dresses on display. All of her merchandise, hundreds of thousands of dollars, is now contaminated.
Yet, three months after the leak, the problem seems to be forgotten by Top Stop and state environmental officials. Christensen fears there is a major health risk that no one wants to take responsibility for.
"Gunnison is a small town, it doesn't have a huge tax base; we're not rich people down here. We deserve to be treated like it had happened at the Gateway in Salt Lake. There is a big problem here, let's clean it up, and let's do it right," Christensen said.
No one from Top Stop's corporate office returned our calls. Three other neighbors also approached KSL, telling us the gasoline is making them sick, too, when they're in their homes. So tomorrow we'll be following up with state officials to get answers on if this situation needs more attention than it is getting.
×
Most recent Utah stories