Estimated read time: 2-3 minutes
This archived news story is available only for your personal, non-commercial use. Information in the story may be outdated or superseded by additional information. Reading or replaying the story in its archived form does not constitute a republication of the story.
AP Photo / Douglas C. PizacJohn Hollenhorst Reporting
Polygamist leader Warren Jeffs tried to kill himself last January by hanging himself in his jail cell. That's one of many points revealed today when a judge in St. George released sealed documents.
The suicide attempt took place about the same time Jeffs told followers he was not a true prophet and had done something immoral with his sister and daughter.
Lawyers went back to the courthouse where Jeffs was convicted of rape as an accomplice, for a new battle that pits the right to privacy against the need for public disclosure. Roger Hoole represents former followers suing Jeffs. He said, "My clients all have one thing in common and that is they were abused as children."
The battle is over jailhouse conversations between Jeffs and his family, which lawyers argued could be crucial to life and death decisions of 10,000 Jeffs followers. Sam Brower, a private investigator for former followers, said, "It's not just snooping. It's not trying to embarrass Warren Jeffs."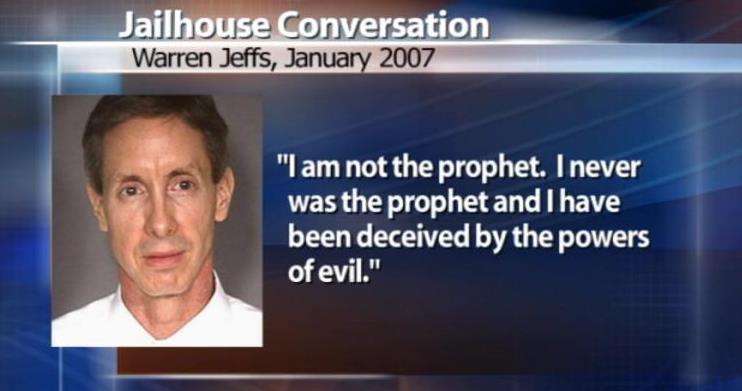 In the transcripts Jeffs expressed a lack of faith in himself. "I am not the prophet" he told his brother Nephi. "I never was the prophet, and I have been deceived by the powers of evil."
Jeffs clearly meant these words to be communicated to his followers in Hildale and Colorado City because he told his brother the Lord had visited him and he said, "I ask, write this down. The Lord told me to say, and I yearn for everyone's forgiveness for my aspiring and selfish way of life in deceiving the elect, breaking the new and everlasting covenant and being the most wicked man on the face of the Earth."
Then he went on to indicate that he doesn't even believe that he, himself, is going to heaven. He said, "And I ask for everyone's forgiveness and say farewell forever you who are worthy of Zion, for I will not be there."
There was no further detail on a statement reported earlier, where he said, "It is me who committed immoral acts with a sister and daughter..." at the age of 20.
The transcripts are based on actual recordings and videotapes made in the jail. It's not clear if the judge's order will prompt the Washington County Sheriff to release the actual tapes.
Long-time opponents hope Jeffs followers will get the message. Brower said, "Well if Warren is a fraud, if he admits to being a fraud in his own voice, then there's a lot of people that have been hurt by that."
Jeffs' lawyers had nothing to say to reporters, but they told the court earlier that Jeffs eventually retracted his controversial statements.
One expert who examined Jeffs after his suicide attempt concluded he had a mental illness. Another expert disagreed. Both ruled him mentally competent to stand trial.
×
Related links
Most recent Utah stories