MORONI, Sanpete County — Since 2001, Jerry and Erma Buys have gone to their cabin frequently to spend relaxing summer days and evenings.
"It was just heaven on earth for us," Erma Buys said of their home in the Indian Ridge, a subdivision west of Indianola.
The Buys live in Payson, but there was always someone from the family at the cabin year-round, she said. It sat on a mountain top with a "gorgeous view."
Now, all of that is gone.
"Our cabin burned to the ground," Erma Buys said Monday. "Our hearts are broken."
Theirs was one of dozens of homes and structures consumed by the massive wildfire that continued to spread Monday to nearly 39,000 acres.
Firefighters are also battling four other wildfires in Utah, although three were declared to be contained on Monday.
The newest fire, dubbed the Church Camp Fire, started about 6 p.m. Sunday and spread to 1,000 acres on Monday, prompting the evacuation of hundreds of residents in Duchesne County. Named for an LDS Church camp in the area, the fire is located in Argyle Canyon between Duchesne and Helper.
As of Monday evening, the fire was threatening 83 structures and all residences in the canyon had been evacuated, said public information officer Louis Haynes. A number of structures had been consumed in the fire, but Haynes said it was too early to determine how many were homes.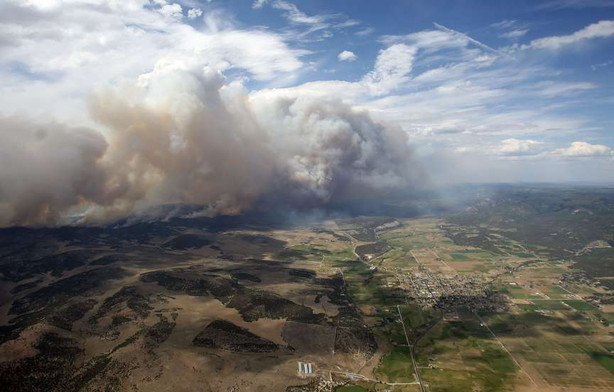 As many as 100 firefighters were battling the blaze with the help of air tankers, fire engines and a bulldozer, but had not yet contained any of the fire, which is believed to be human-caused.
As crews battled the massive Wood Hollow Fire in Sanpete County outside of Fairview, residents of the evacuated communities tried to get any information they could about the fate of their homes. Many gathered off of Highway 89 Monday, just outside the evacuation zone, to watch columns of smoke still rising from their communities and helicopters coming and going all day dumping water on the fire.
Some hugged and consoled each other as they watched helplessly, using binoculars and telescopes from their cars to try and get closer views of their burned community.
Justin Sanderson said there were about 30 homes in his neighborhood of Oaker Hills. The Sanpete County Sheriff's Office reported 14 homes and 50 structures there had burned to the ground.
For Sanderson, the fire hit and missed trailers, sheds and other structures on his property.
"I can see my property from here and I know everything is burnt, but the main dwelling is still standing, I don't know what damage is done to it. But everything else is gone, all the other structures — another cabin was there, my tractors and everything like that."
Sanderson lives in Spanish Fork, but spent much of his time in Oaker Hills.
"It's looking OK right now," he said of his house as he watched the fire from across the highway. "I don't know if it's out of the woods or not."
---
By golly, you start the fire, you're going to be liable to pay for the fire.
–- Gov. Gary Herbert
---
If his cabin does burn, Sanderson said he'll rebuild.
Firefighters in Sanpete County had hoped to reach 20 percent containment of the Wood Hollow Fire by late Monday. Mandatory evacuation orders remained in place, although officials acknowledged that not all residents left their homes. More than 200 homes were evacuated Sunday, including the subdivisions of Oaker Hills, Elk Ridge, Indian Ridge, Panorama, Big Hollow and Hideaway Valley — areas that were a mixture of summer cabins, primary residences and horse and livestock properties.
Gov. Gary Herbert confirmed Monday afternoon that 25 to 30 residential structures had been destroyed by the fire, including an estimated 12 to 14 primary residences. The estimated cost of private property lost was between $5 million and $7 million, Herbert said.
The total spent fighting wildfires in Utah so far this year is close to $3 million, according to Utah Commissioner of Public Safety Lance Davenport. He said fire conditions in the state are worse than he's seen "in a long time."
As the Fairview city manager was coming back from a meeting in Heber City on Saturday, he heard on his radio that multiple fire engines had been paged out.
"As I approached I knew something was happening beyond where we lived," said David Taylor, recalling the billowing smoke coming from the far off hills. "Knowing where the wind was blowing, we could be in trouble."
A day later, heavy smoke hindered the view of the home he had helped to build 12 years ago. 
"It was a 100-foot wall of fire when it hit our place, unbelievable," Taylor said, adding that only twigs were left standing on the ground. He and his wife have assessed the damages and will try to move on, also helping others in the city to do the same.
"We will just take one day at a time, one bridge at a time, move forward," Taylor said. "We will rebound, we will make it."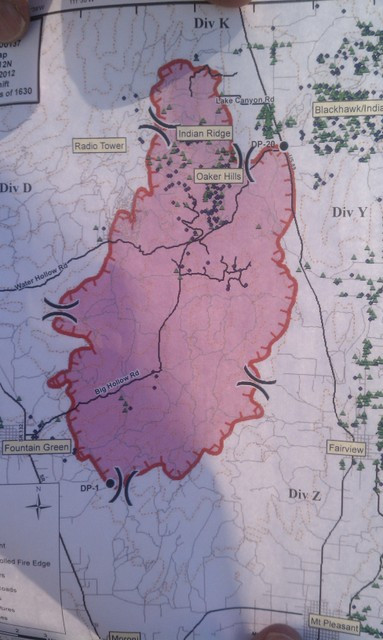 The area is replete with active ranches and property owners were being kept from their animals and lands until evacuation orders would be lifted. One of the properties near the fire was a ranch once owned by country music legend Willie Nelson.
No people had been injured as of Monday afternoon, although 60 to 75 sheep were killed in the fire. Herbert said a couple of sheep herders had to be lifted out of the area by helicopter.
Herbert reiterated his message to people using the outdoors — whether they are target shooters, campers or recreationists — to use "common sense." And if the threat of burning the state wasn't enough to deter people, then maybe a fine would be.
"By golly, you start the fire, you're going to be liable to pay for the fire," he said. "This is serious business. ... We're smarter than that in Utah."
The cause of the fire remained under investigation Monday, although recent copper wire thefts in the Wood Hollow area have removed critical ground wires and a short circuit on a transmission structure may have helped to spark the fire. A number of power poles had been burned by the flames and Rocky Mountain Power officials were among those restricted from the area, leaving repairs to the coming days and weeks.
Fewer than 300 customers were without power Monday, however, and many of those homes had been mandatorily evacuated.
"With this heat, the fire is not laying down at night. So starting this evening we're going to have a night shift, so we'll be fighting the fire 24 hours a day now," said spokeswoman Dorothy Harvey.
The sheriff's office initially indicated that it might allow or escort residents back to their properties to survey them on Tuesday, although evacuation orders were still in effect due to fluctuating weather conditions.
Janet and Jay Barlow had their home consumed by fire in the Indian Ridge subdivision, as well as a storage shed, bulldozers and other heavy equipment.
But they feel like the lucky ones.
"We were very, very fortunate," Janet Barlow said. "We had moved. We're not dependent on it for a place to live."
---
We lost stuff. We didn't lose any lives. Stuff can be replaced. But we can't live without our neighbors and friends.
–- Janet Barlow, resident
---
For 20 years, their home in Indian Ridge was their primary residence. But last fall, the Barlows moved to St. George and kept their Sanpete County home as a summer residence. All of the photos and other non-replaceable items had already been moved to their home in southern Utah.
"I feel so sad for those who lost their whole house," she said, fighting back tears. "It's everything. My heart just goes out to them."
Barlow was told that only three homes out of about a dozen in Indian Ridge were still standing Monday. Some of the houses were primary residences. Several neighbors, she said, were told to evacuate at midnight and escaped with only the clothing on their backs.
"We had to leave so many valuables in (the cabin) … just memories of our life together all went up in flames up there. We lost too much. We had to leave too much there," Erma Buys said.
The Buys said they had not been able to return yet to see the rubble. Jerry Buys has only been able to see the area from the roadside through binoculars.
A similar evacuation in 2007 led the family to pack up nearly everything then, but that fire was stopped before it reached their cabin, according to a son, Craig Buys.
"The only thing we pulled out (this time) was a 4- wheeler. Everything else is gone. Just lost everything," he said.
Dave and Debbie Bess also lost everything. The log cabin they had been living in for the past five years was their primary residence.
"We lost everything — except our lives, which is good," Debbie Bess said. "We didn't have enough time to get things." She said she was informed Monday afternoon that her home was still burning. "It was a nice little cabin. We loved it. I'm going to miss it."
Debbie Bess wasn't sure Monday what she and her husband will do next. But they will likely rebuild somewhere close, she said.
Barlow said despite all of the destruction, it's important to remember that nobody has been hurt.
"We lost stuff. We didn't lose any lives. Stuff can be replaced. But we can't live without our neighbors and friends," she said.
Sanderson said sheriff's deputies told them Saturday there was a voluntary evacuation, which turned into a mandatory evacuation by midnight. While his family got out, Sanderson waited until he could get his horses to safety and he gathered and few personal items that could not be replaced before leaving.
"I got my animal mounts, my one side-by-side, pictures … I didn't get the tractor," he said. "I'll definitely rebuild. If it's all gone, I'll definitely rebuild."
Terry Olson and his family have been spending every summer at their cabin in Oaker Hills for the past 33 years.
Evacuation shelter information
North Sanpete High School
390 E. 700 South Mt. Pleasant, Utah Showers, food, water and overnight shelter available. The shelter remains open, and will continue to be so until it is not needed any longer.
"My property is gone," he said as he watched from the highway. Despite his loss, Olson tried to remain in good spirits Monday.
"You gotta hand it to the firefighters, they've done one heck of a job with the conditions they have here," Olson said. "But, it was just a matter of time. This is nature's way of cleaning the country up. I wish it would it would have run around my cabin to do it."
The St. George resident said he likely will not rebuild. Instead, he plans to buy a trailer that he could drive to the property, and other places as well. His children might have other plans, perhaps to build there again in the future.
"But now it's nothing but a bunch of black soil," Olson said.
Nancy Gibbs and her husband have had a cabin in the area for the past five years.
"There's been so many people who have built in the past two years up there, big beautiful places. It's just sad," she said.
As the fire grew throughout the day, it was upgraded and additional support was called in. A Type 2 wildfire team took over command of the destructive fire early Monday, a step up from a Type 3 team.
"A Type 3 team is on the ground to fight the fire. That's their main goal is to try and put that fire out before it gets too big. Once it reaches more than what a Type 3 team can handle, then we bring in a Type 2 team that has the overhead to do the planning and the overhead and all that it entails to actually attack a fire," Harvey said.
The Type 2 incident management team was expected to bring in an additional 35 to 40 firefighters from around the West, including Idaho, Nevada and Wyoming and as far north as Canada. Three helicopters, one air tanker and bulldozers were also being used to fight the blaze.
Herbert, who surveyed the area from a helicopter Monday morning, said the fire looked better than he expected. But he noted that the wind was their biggest concern.
"This is going to be a tough year for fires," the governor said. "It's hot, it's dry."
U.S. 89 was closed for part of the day Sunday from Fairview to the Sanpete County line. The road was open Monday, but the sheriff's office asked residents to stay away to keep the roads clear for firefighters.
Contributing: Geoff Liesik, Jed Boal and Julian Reyes
---
×
Photos
Related Links
Related Stories