Estimated read time: 2-3 minutes
This archived news story is available only for your personal, non-commercial use. Information in the story may be outdated or superseded by additional information. Reading or replaying the story in its archived form does not constitute a republication of the story.
Sandra Yi Reporting A man who was inadvertently let out of jail because of a paperwork mix-up is back in custody again. Robert Preece was arrested in Oregon today. He is accused of a string of armed robberies in Utah.
Police were able to link a car to Preece. They put that car on a national registry, and early this morning officers in Oregon found it with Preece sleeping inside. "I think everybody's relieved that he's back in custody," said Rick Rasmussen, FBI Supervisor for Salt Lake City.
The seven-week manhunt for a man described as a violent career criminal ended in Portland, Ore. Police there found Preece in a car behind an apartment complex. "Although they had stopped him, he couldn't identify himself. He used the name 'Michael Moore,' and they went on the FBI website, were able to look at his picture, positively identified and captured him," Rasmussen explained.
Police say Preece used his freedom to commit more crimes, including two bank robberies at the First Utah Bank and an armed robbery in Salt Lake County.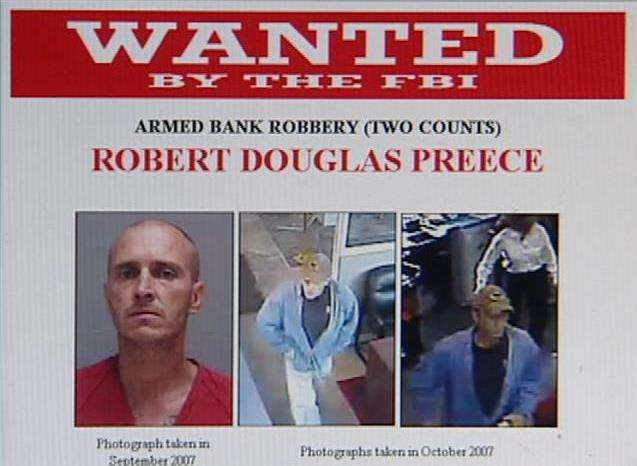 The FBI says it's been on Preece's trail for the past couple of weeks. Agents believe pressure from police and heavy media attention on his case forced Preece to find a new hiding place. "Clearly he was trying to get away. That's why he was up in Oregon," Rasmussen said.
Preece was arrested in September, accused of robbing a Quiznos in West Valley City. After the hold-up he allegedly carjacked a vehicle and led police on a chase that ended in a crash. However, Preece got out of jail because prosecutors failed to file charges on time.
Salt Lake County District Attorney Lohra Miller blamed it on a combination of errors. She says her office, Salt Lake County authorities and the jail are talking about ways to improve the system. "But unfortunately, when you have a high caseload carried by the prosecutors here, human errors occur; and we're going to have to do something about the caseload in general to make sure this type of error does not happen again," Miller said.
The FBI says in Preece's case it won't. "Not only has he been charged in local court, but he's been charged in federal court, so he's not going anywhere," Rasmussen said.
Preece has waived extradition and will be coming back to Utah. He'll face federal charges for the bank robberies and charges for eight other local armed robberies.
×
Related links
Most recent Utah stories