Estimated read time: 2-3 minutes
This archived news story is available only for your personal, non-commercial use. Information in the story may be outdated or superseded by additional information. Reading or replaying the story in its archived form does not constitute a republication of the story.
Dick Nourse Reporting In 1967, young Americans were fighting a war halfway around the world. A young reporter named Dick Nourse went to Vietnam that year to talk to soldiers and sailors from Utah. In this edition of The Nourse Files, Dick reconnects with one of them.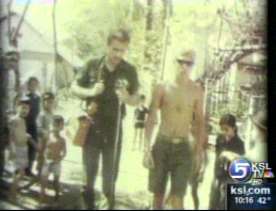 It's been 40 years since I met Ken Mangum; we were both a long way from home. At that time he told us he was there, in Vietnam, to help villagers rebuild their homes.
Ken Mangum was born and raised in Panguitch. He served three tours of duty in Vietnam, until he was hit.
"And being so young when we went there, 19 was the average age in Vietnam, it was hard to grow up so quick, leaving there, and to see so many go, and we could hold resentment and we didn't finish the job that we were sent there to do," he said.
He still carries shrapnel from his wound and more. "Once I face my realities with that war, I become a better person I think, in a sense. I can show emotions now. Before I can't. It was hard."
Now, Ken is a deputy sheriff in a small town in Maryland. It's not far from the Vietnam Memorial in Washington; still, it took years before he could bring himself to visit "The Wall."
"It was very hard for me to move once I stepped on that hallowed ground, to go down to the front and see the names of my fellow service members that I knew over there that had been lost. And it was so hard to go down to that wall," he said.
When I met Ken Mangum in a Vietnamese village, I was a young reporter, and he was a young sailor. Back then, when asked, he said he believed the U.S. involvement was justifiable in Vietnam. These many years later I asked him a similar question about a different war. This time, Ken Mangum was less certain.
"How would you view our current situation in Iraq?"
He replied, "It's almost the same thing today. It looked good when we first went in. You're always good for good. But when you start getting quagmired down and don't know who the enemy is, then you've really got problems."
Ken Mangum will retire soon and plans to move back to Utah.
×
Most recent Utah stories