Estimated read time: 3-4 minutes
This archived news story is available only for your personal, non-commercial use. Information in the story may be outdated or superseded by additional information. Reading or replaying the story in its archived form does not constitute a republication of the story.
SALT LAKE CITY — Elections often bring out some very interesting "facts," details and displays as opposing parties look to devalue the other party's candidates. And a display at the Montana Republican Convention certainly had people talking.
Outside the Montana Republican Convention in Missoula last weekend, an outhouse was on display. But it was not your typical outhouse. The outhouse was labeled with the name "Obama Presidential Library," drawing criticism from members of both the Republican and Democratic party. But its builder, Dave Hurtt, said it was merely a political "spoof."
The outhouse was designed to be a mobile political statement about Obama's policies, Hurtt said. The outside of the outhouse features fake bullet holes, with a mock birth certificate of President Barack Obama inside.
"It's just a spoof — a joke," Hurtt told NBC Montana. "Maybe my humor is a bit crude for some people."
The state Republican party did not share Hurtt's message, saying it was not a representation of the party or its beliefs.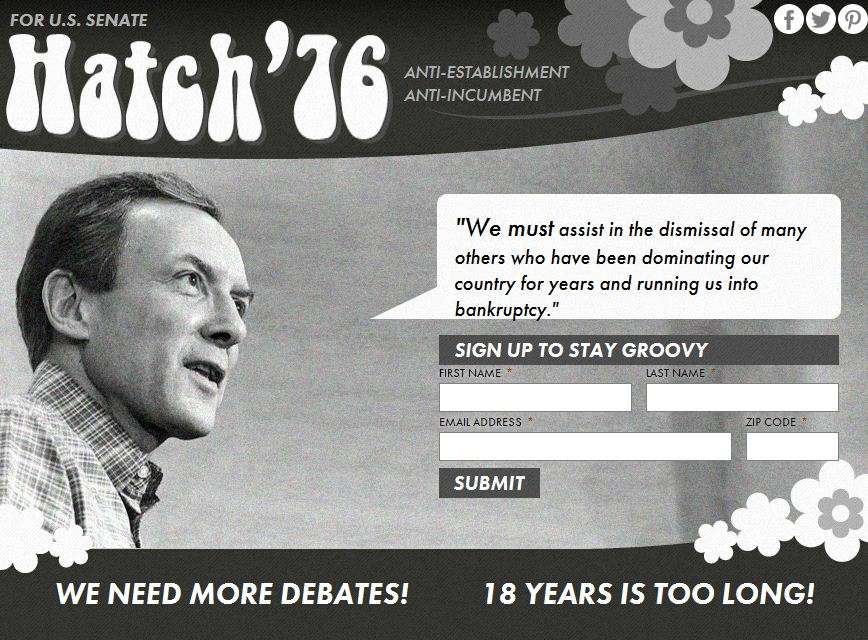 Hatch '76 website
With less than a week to go before Utah voters go to the polls to determine the fate of Sen. Orrin Hatch and former state senator Dan Liljenquist, a new website has surfaced by the Liljenquist campaign to combat Hatch's seniority in the U.S. Senate.
The website, www.hatch76.com, takes a look at what Hatch's campaign looked like in 1976 when he won his first term. The website features two phrases used by Hatch — "We need more debates!" and "18 years is too long!" — to show the changes in Hatch's campaign after 36 years in office.
Marco Rubio out as VP candidate?
Senator Marco Rubio, R-FL, has long been considered a favorite to be Mitt Romney's vice president, giving Romney a strong connection to the much-needed Florida and a boost with the Latino community. Tuesday morning, ABC News reported Rubio has not be included in the vetting process.
ABC News said several Republican sources informed them Rubio is not being vetted by Romney's campaign and that no contact has been made between Beth Myers, who has been asked to run Romney's vice presidential search, and Rubio.
However, when asked by the media about the ABC News report at a campaign stop Tuesday, Romney declined to comment, only saying: "I'm not going to comment on the process of course, but I can tell you this, only Beth Myers and I know who is being vetted."
---
I'm not going to comment on the process of course, but I can tell you this, only Beth Myers and I know who is being vetted.
–Mitt Romney
---
Huntsman girls are swing votersDuring the early part of the Republican presidential race, former Utah Gov. Jon Huntsman's daughters grabbed the national spotlight, tweeting various things about their father's campaign, blogging and performing spoof campaign videos. Some argue the "Huntsman Girls" actually had more influence on the Republican presidential race than their father.
Since Huntsman's departure from the race, the "Huntsman Girls" continue to offer their voice to the political world. Recently, GQ caught up with Huntsman's three daughters, who shared their opinion on the presidential race.
"We actually are swing voters, at least this time around, so you guys were right on. We are like a lot of Americans without a home this election cycle," Abby Huntsman said. "Both sides lack a vision for the future that really resonates. Looks like we're going to have to wait and see who is the better dresser when the debates roll around."
×
Related links
Most recent Politics stories