Estimated read time: 9-10 minutes
This archived news story is available only for your personal, non-commercial use. Information in the story may be outdated or superseded by additional information. Reading or replaying the story in its archived form does not constitute a republication of the story.
SALT LAKE CITY — A 46-year-old motorcyclist from Brigham City was killed Monday night when he crashed after hitting a mattress that was discarded on I-15.
The accident marked the eighth motorcycle fatality in Utah this year, compared to five during the same period last year, according to the Utah Highway Safety Office.
The victim from Monday night, Royce Munns, was not wearing a helmet. While wearing a helmet generally increases the chances of survival in all motorcycle accidents, Utah Highway Patrol Cpl. Todd Johnson said he did not know in this particular case if a helmet would have made a difference.
But the recent increase in motorcycle accidents is giving renewed fuel to a familiar debate in Utah: Should the state have a mandatory helmet law?
Those on each side seem to be as evenly split as the statistics themselves on whether helmet usage should be mandatory and whether it's the most effective way to save lives.
"It impairs your vision and it impairs your hearing and it fatigues you," James Parker, a service manager at Harley-Davidson Buell, said. "If you go riding 500 miles in a day and you have that helmet all day long, you're getting tired."
But Mike Cowdell, 56, a former motorcycle officer for 20 years who now teachers rider courses at Harley, said a motorcycle simply doesn't offer the same protection as a car or truck.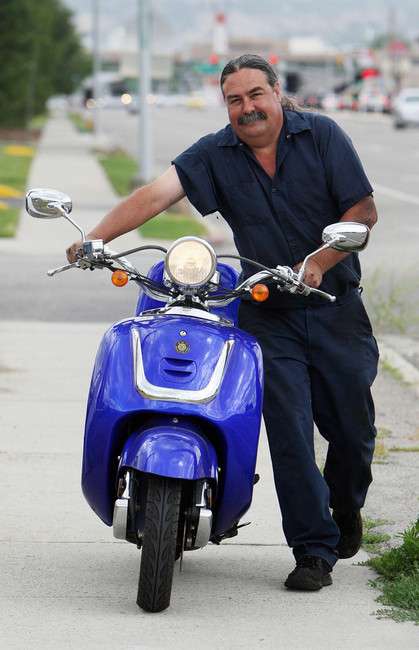 "I am a firm believer that nobody ever has been killed because they wore a helmet. It's the other way around," he said.
"Honestly, we would sell a lot more helmets if it was legislated. But I just don't think everything has to be legislated," said Heidi Timmons, 55, co-owner of the shop. "I think we have laws that protect our children I think that is important. But over 18 we should be old enough to make our own decisions."
Of the eight motorcycle fatalities so far in 2012, four victims were wearing helmets and four were not, according to the Utah Highway Safety Office.
The statistics were just as evenly split last year. Of the five motorcycle fatalities through the first five months of 2011 in Utah, three riders were wearing helmets while two were not.
While both sides of the debate are in agreement that improving motorcycle safety is in everyone's best interest, the way to achieve that goal is a continuing point of contention.
On one side, those who favor helmets to protect motorcycle riders argue that even careful riders can't control when a car might pull out in front of them. On the other side, those who want the freedom to decide for themselves whether a helmet is best for them argue that more education is needed to prevent accidents from happening in the first place.
Currently, anyone 17 and younger in Utah is required to wear a helmet while driving or riding a motorcycle. Several attempts by state lawmakers since the 1990s to pass mandatory helmet laws have ended in defeat. Although the debate has cooled in recent years, there are lawmakers who still believe Utah needs such a law.
There are currently three states in the nation that do no have any sort of motorcycle helmet law: Illinois, Iowa and New Hampshire. Nineteen states and the District of Columbia require helmet usage for all motorcycle riders.
Utah is one of 18 states that requires helmets only for those under 18. One state (Delaware) requires helmets for those under 19 and eight states mandate helmet-usage for riders under 21. Florida has a law that allows those 21 and older to ride without a helmet if they have at least a $10,000 medical insurance policy.
Michigan just recently repealed its mandatory helmet law. Now, riders who are over 21 and have at least $20,000 in medical insurance have the option of riding without a helmet if they choose.
In 2009, more than 4,400 motorcycle riders were killed in the U.S., according to a report released last month by the group Trust for America's Health, which published a state-by-state look at injury prevention.
---
Derek Miller, who heads up motorcycle safety for the Utah Highway Safety Office, said Utah had 36 motorcycle fatalities in 2008, the highest number of motorcycle fatalities in Utah in 25 years. Until recently, the numbers had dropped.
---
The report cites statistics from the National Highway Transportation Safety Administration indicating that helmets reduce the likelihood a crash will be fatal by 37 percent. NHTSA also estimated that helmets saved the lives of nearly 1,500 motorcyclists in 2009 and said that if all motorcyclists had worn helmets, more than 700 additional lives could have been saved.
The group also pointed to California, where lawmakers passed a universal helmet law in 1992. Helmet usage jumped to 99 percent and the number of fatalities dropped by a third, according to the report.
Derek Miller, who heads up motorcycle safety for the Utah Highway Safety Office, said Utah had 36 motorcycle fatalities in 2008, the highest number of motorcycle fatalities in Utah in 25 years. Until recently, the numbers had dropped.
Miller doesn't want to get into the debate of whether there should be a mandatory motorcycle helmet law in Utah. But either way, he says wearing a helmet is just one part of the issue.
"I think helmets aren't the only thing that's needed," he said.
Educating the public — both riders and non-riders — is also a big part in safety, he said. For those who ride motorcycles, Miller said wearing a helmet will only do so much.
"I see young kids wearing shorts and flip-flops (while riding a motorcycle)," he said, noting that if those kids ever had to lay their bikes down, "helmets are not going to do much for them."
Miller said most riders know that even having a bug hit their knuckles while riding hurts.
"Gloves are just as important as helmets," he said.
---
For a lot of people, it's a sense of freedom. They kind of feel like they don't want Big Brother stepping on their toes. People don't like the government telling them how to run their lives.
–Steve Thompson
---
To get those points across, Miller stressed the importance of educational campaigns and riding classes, such as one offered at Salt Lake Community College.
After 2008, Miller said his office received extra federal grant money that was put into educational campaigns, such as "Share the Road" and "Drive Aware. Ride Aware."
In 2009, Utah's motorcycle fatalities dropped to 30 and fell again in 2010 to 21. Last year, Miller said his budget was cut and his office did not conduct as many educational campaigns. In 2011, the number of motorcycle fatalities crept back up to 28.
Miller doesn't think his office's campaigns were the only factor in reducing motorcycle fatalities, but said "they played a contributing factor."
Meanwhile, the number of registered motorcycles in Utah has skyrocketed since 2000, and after recently receding, jumped again in 2012 to more than 90,000, its highest number ever, according to the Highway Safety Office.
The death rate of Utah motorcyclists per 10,000 registered bikes in Utah dipped to an all-time low of 2.9 in 2010, but rose to 4.0 in 2011.
From 2007 to 2011, the percentage of motorcycle crash victims killed in Utah who were listed as wearing helmets ranged between 36 percent and 56 percent. But Miller said those statistics could be misleading. The stats only counted whether a rider was wearing a helmet and did not take into account whether the helmet was being worn properly.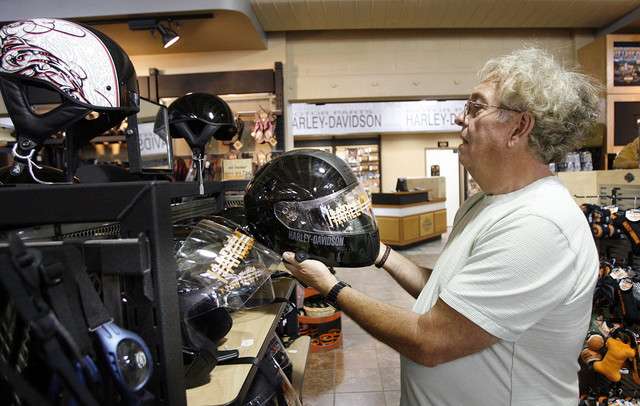 Steve Thompson, CEO of the Utah group American Bikers Aiming Toward Education, has high praise for the work of the Highway Safety Office. Thompson himself has spent many hours in drivers education classrooms teaching motorcycle safety.
ABATE has also been one of the key voices at the Utah Legislature opposing a mandatory helmet law, urging education instead.
Thompson said his group also includes riders who wear helmets.
"We are pro-choice. We have a number of our riders that wear helmets and a number that don't. We don't discriminate," he said.
The key, he said, is that they all have the freedom to choose, which has been the crux of the argument of those in opposition to a helmet law each time it has been shot down in the Legislature.
"For a lot of people, it's a sense of freedom. They kind of feel like they don't want Big Brother stepping on their toes," Thompson said. "People don't like the government telling them how to run their lives."
If lawmakers are allowed to regulate what a motorcyclist wears, Thompson wonders what would prevent them from next mandating helmets for bicycle riders or skiers.
"There are a lot of sport activities that can occur besides motorcycle riding. By closing the door on motorcycles they're opening the door on other activities," he said. "I think it's Big Brother … nobody wants Big Brother telling them what to do."
The last attempts by lawmakers to have modifications made to Utah's helmet law occurred in 2009 by Neil Hansen, a former Democratic representative from Ogden, and House Majority Assistant Whip Ronda Menlove, R-Garland.
Hansen concedes much of his bill's defeat was due to the work of the ABATE group. His bill was on behalf of one of his constituents, Ray Kimber, who had a friend who suffered a traumatizing long death following a motorcycle accident.
"I've got mixed feelings about (the helmet debate)," Hansen said. "I want people to have the freedom to do what they want. But at the same time, if someone is hurt and taken to the hospital and the hospital is being charged exorbitant fees to put someone on life support and for multiple surgeries … it's freedom against safety, and where do you draw the line between the two?
"When it's all said and done, safety should out rule the freedom."
Regardless of whether there's a helmet law, there will always be consequences after an accident, he said.
"Let's lessen the consequence through safety rather than someone ending up suffering the rest of their lives by being put in a coma or wheelchair," he said. "It just really outweighs that whole argument of 'I want my freedom.'"
Kimber agreed, saying that by requiring helmets, "I think we remove a great deal of the risk from those who are not good at risk assessment."
In its spring 2010 newsletter, The Highway Star, following the defeat of the helmet bills in the Legislature, the ABATE group said it actually agreed in principle with Kimber.
"I think we agree with Mr. Kimber that we want motorcycling safer, we just disagree on the way to go about it. Mr. Kimber did mention in his testimony that he would like to see a law that made the penalty substantially more severe for a car that turns left in front of a motorcyclist. Perhaps, we could work with him in the future to make this type of legislation happen," the newsletter states.
Thompson said he spends weeks at the Legislature each session, fighting to make sure the rights of motorcycle riders are protected.
"I think everybody's a little worn out by it, but we're not going to quit," he said.
Contributing: Julian Reyes
×
Photos
Related Links
Related Stories