Estimated read time: 2-3 minutes
This archived news story is available only for your personal, non-commercial use. Information in the story may be outdated or superseded by additional information. Reading or replaying the story in its archived form does not constitute a republication of the story.
Lori Prichard Reporting Halloween is one of the world's oldest traditions, dating back more than 2,000 years to Great Britain, but how we've celebrated this "Day of the Dead" has changed through the years.
We know one thing hasn't changed: Kids love Halloween and dressing up in costumes. However, instead of roaming from neighborhood to neighborhood collecting bags of candied bounty, some ghouls and goblins tend to stay closer to home, or trick-or-treat at nearby churches and businesses.
Katie Guymon's two tots won't go too far this Halloween. "We usually just go to people we know," Guymon said.
That's because Katie knows she can't trust everybody. "Nowadays, you have to be more careful," Guymon said, "When we were kids, we really didn't have to worry about where we had to go to. It's kind of sad. We used to be out all night going everywhere, hardly [any] parents went with us."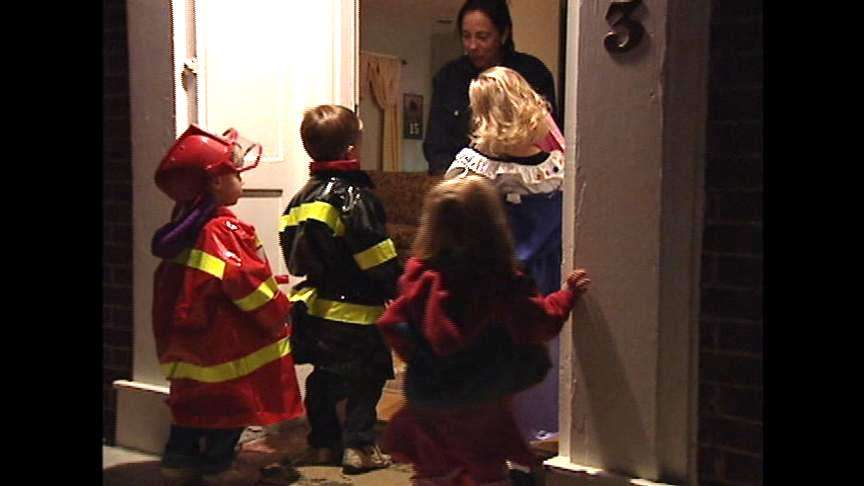 Robert Parenti, president of the Utah Safety Council agrees: Those days are over, and parents need to be with their kids watching. "They need to take a lead in making sure their children understand the possible hazards that can be faced on Halloween," Parenti said.
That's why for Guymon and her kids, Halloween will be spent with people at places she knows. "They had a church party that was like a trunk-or-treat or a fall carnival. So, they got to trick-or-treat around the doors. That was fun. They got candy, and they got to dress up, too," Guymon said.
If you're looking for a place to take your pint-sized pumpkin to trick-or-treat, area malls will be handing out candy this evening (see locations and times below).
Of course, there are lots of events going on tonight around the area. Some churches are hosting a trunk-or-treat, and businesses are handing out candy as well.
For more tips on how to make Halloween fun and safe for you and your children, click the related link.
Trick-or-Treating at Shopping Malls- Fashion Place Mall; 5 p.m. to 7 p.m.
Layton Hills Mall; 5 p.m. to 7 p.m.
Provo Town Center Mall; 6 p.m. to 9 p.m.
South Towne Center Mall; 4 p.m. to 6 p.m.
×
Related links
Most recent Utah stories