Estimated read time: 2-3 minutes
This archived news story is available only for your personal, non-commercial use. Information in the story may be outdated or superseded by additional information. Reading or replaying the story in its archived form does not constitute a republication of the story.
SALT LAKE CITY — Tech Sergeant Les Davenport and his wife kept his return a secret. His kids were told he would be coming home some time in June. Instead, he gave them the surprise of their lives by returning Tuesday and visiting them at their school.
Davenport\'s kids didn\'t know he was coming home until they saw him walk through the door. He has been in the Air Force for the past fifteen years and in South Korea for the past eight months on his longest tour yet.
Walking into each of his kids classrooms, he gathered them all up.
"It made me really happy that we could do this, see their faces walking in and getting them all together and seeing how happy they all are," Davenport said.
His oldest son was surprised in front of the entire school. The principal told him to close his eyes and the first thing he saw when he opened them was his dad.
"I missed him so much, I\'m so glad he\'s back now," said Les Davenport, Jr. "I\'ve anticipated this for so long."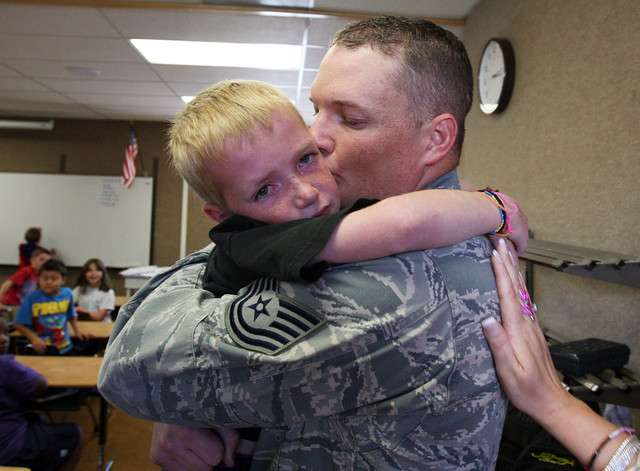 Davenport has five children and two step-children. He\'s also got plenty of neighbor kids who also consider themselves part of the family.
"I\'m just the adopted family member. I consider him more of a dad than my real one," said a neighborhood child named Anna.
Davenport will be home for thirty days before returning to complete his tour.
"We\'re gonna spend a lot of family time together," said Holly Davenport. "I mean, I\'m gonna make this the funnest summer that they have ever had with their dad. We\'re gonna do all the most odd-ball things that I can come up with.
The Davenports said they are going to do lots of swimming and camping this summer. While they soak up the sun, the kids said they were most excited about just being with their dad.
×
Photos
Related stories
Most recent Utah stories