Estimated read time: 4-5 minutes
This archived news story is available only for your personal, non-commercial use. Information in the story may be outdated or superseded by additional information. Reading or replaying the story in its archived form does not constitute a republication of the story.
TOOELE — Ema Parker would rather not be in the spotlight.
And all the hemming and hawing over her hemline, the 14-year-old says, has been embarrassing.
"It's shocking that I would get cornered for this, separated out from other people," Ema said Thursday outside Tooele Junior High School.
Last week, Ema was called into the office by principal Larry Abraham over the length of her skirt, which she was told was a half-inch too short. The school's dress code requires that material reach 2 inches above the top of the knee.
Ema said she was surprised by the reprimand because she believes the skirt meets the dress code, and "other people were dressed more inappropriately that day."
The blog post heard 'cross the country
The Tooele teen's story has made national headlines since her father, Steven Parker, wrote about the incident on his blog. Several other blogs linked to it, and the story eventually caught the attention of the Huffington Post.
---
I hope the attention this is getting will help it to be corrected a little bit.
–Steven Parker, Ema's father
---
"I hope the attention this is getting will help it to be corrected a little bit," he said.
Parker's blog makes a point while also making light of the situation. He tells of how he got "one of those phone calls parents dread" from the junior high school on May 16, informing him that he needed to either pick up his daughter or bring her a change of clothing, something appropriate for school.
"(Ema) had been escorted to the front office by the principal and was cooling her heels there until a parent could come in and sort stuff out," he wrote. "Her life of crime had begun."
Parker said he took a camera with him to the school and snapped a photo of Ema in the office to document "the apparently inappropriate outfit she was wearing."
"I don't think it's inappropriate," the eighth-grader said. "I don't think it's provocative at all."
Neither school nor district officials would comment on the length of the dress or the controversy, but people who saw the story on KSL had plenty to say.
Utahns react
"I don't care what the rule is. It is beyond ridiculous to tell this girl she is dressed inappropriately," Emily Fox, of Salt Lake City, posted on KSL's Facebook page. "The school needs to change their rules. This is 2012, not 1912."
"You are kidding right?" added Valerie LeGrand, of Salt Lake City. "I just spent two days at my daughter's junior high in Taylorsville, and this is the outfit of a saint compared to some of the clothing that I saw."
Zebrina Easterday, a Tooele native who now lives in Salina, said her sister was sent home from Tooele Junior High School 10 years ago for wearing a similar outfit.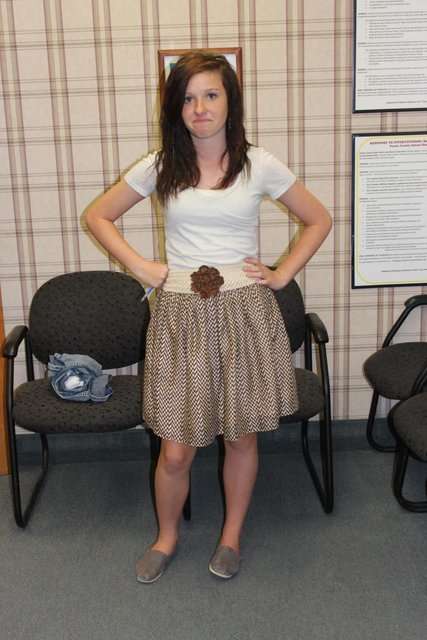 "When she was being picked up, my mother watched girls walk down the hall in much worse outfits and definitely felt it was a pick-and-choose policy," Easterday wrote. "(It) made no sense to me then, nor does it now."
Ema said she was upset about being called into the office and just figured she would "never wear a skirt to school again."
But she was bothered that she was singled out for her outfit while other students in the area were wearing less appropriate attire, she said.
"I saw other girls at school, and they were wearing (skirts) tons shorter," Ema said, "and they didn't get in trouble. I was the one who got in trouble, and they were not that far away from me."
Part of the problem, she says, is that much of the spring and summer clothing for teen girls sold at trendy stores is not appropriate for school.
"A lot of the stores, they don't sell anything that (meets the) dress code for our school," Ema said. "You don't want to wear jeans on an 80-degree day. I don't think it's very fair."
Ema said her mother wouldn't allow her to go to school wearing something inappropriate.
"My mom, she's pretty strict on the dress code," she said. "She totally thought it was all right."
Parker said he believes his daughter was a victim of "selective enforcement," something he says is "not uncommon for students at Tooele Junior High School to experience."
The good news, Ema says, is that Friday is her last day at the school, and the dress code in high school is more lenient.
But she's also hoping the attention her experience is getting will force school officials to rethink the dress code.
"I hope they change the dress code for other kids at the school so they won't be singled out for anything like that," Ema said. "It's really embarrassing."
Contributing: Sam Penrod
×
Photos
Most recent Utah stories