Estimated read time: 2-3 minutes
This archived news story is available only for your personal, non-commercial use. Information in the story may be outdated or superseded by additional information. Reading or replaying the story in its archived form does not constitute a republication of the story.
Whit Johnson Reporting Yesterday, UDOT crews removed an old bridge over I-215 and demolished it. Today, they replaced it with the new one. And, they're using state-of-the-art technology to do it, never before seen in Utah.
There have been hundreds of people on hand throughout the day to watch the event take place. UDOT literally picked up a bridge that was built alongside I-215, turned it and plopped it right down in its place.
This morning, final preparations at 4500 South and I-215 were underway. Moving a 3-million-pound bridge is no small task. "[I] just want to see, you know, history in action, so to speak," spectator Joanna Green said.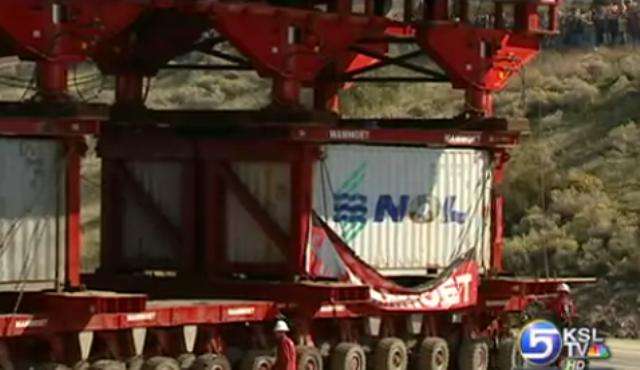 The department of transportation is trying new technology called "self propelled modular transporters," or hydraulic engine lifts and wheels that operate by remote control. "So, it's a very exciting thing for Utah, and we're very excited to complete this project," UDOT Project Development Coordinator Jim McMinimee said.
Yesterday, hundreds of spectators watched as the old bridge was taken down. Today the crowds were back and wanting to see the project's finishing touches, which combine big heavy machinery and some of the finest details.
"Everybody's kind of been hyped up about it. We've all been wanting to know when it's going to get done, and we've all been watching it get built on the side of the road," Green said.
Everything is almost completely in place. Replacing a bridge is usually a project that can take up to nine months, but this time it only took several days. "We're one of the first states in the nation to apply this technology and to move a bridge using this technology," McMinimee said.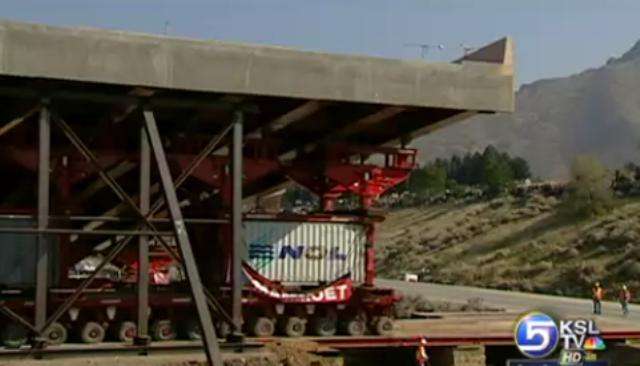 And, the first time won't be the last. UDOT already has 14 other bridges on the replacement list. "I think it's been fascinating, and I think it's amazing how quickly they've gotten it done," spectator Nancy Miles said.
I-215 will be back open to traffic tomorrow, but 4500 South still needs a little work. Officials are saying it will be about 10 days before it's all said and done.
- - - - - -
×
Related links
Most recent Utah stories