Estimated read time: 5-6 minutes
This archived news story is available only for your personal, non-commercial use. Information in the story may be outdated or superseded by additional information. Reading or replaying the story in its archived form does not constitute a republication of the story.
SALT LAKE CITY - The big budget action film "Battleship" sails into theaters this weekend and it hopes to blow the king of the sea, "The Avengers" out of the water. OK, is that enough water references?
"Battleship" is based off the classic board game of the same name. So, how do you make a game with red and white pegs and a grid exciting enough for a movie? Aliens of course.
#poll
"Battleship" is just the first of many board games planned for movies. Others include Risk, Candy Land, Ouija and Monopoly. And some have already been made like "Clue" and "Twister." "Twister" was based off the game right?
In honor of Battleship's maiden voyage, I promise I'm done with the water references; here is a list of five board games and their plots that we'd like to see made into movies.
Life
Life could be the romance movie of 2013. Move over "The Vow" because Life is coming at you.

Cast a heartthrob like Zac Efron opposite some young starling like Rachel McAdams and watch as they struggle through the highs and lows of life. Just make sure you get that spinner in there at some point.
You have intense drama when Efron decides if he's going to take a job or go the school route. Then he and McAdams have triplets and are then forced to buy a home they can't afford. This thing writes itself.
When it comes down to it, the movie doesn't even need to have a good story. With Efron and McAdams and few scenes to get you all watery eyed you've got a money maker on your hands.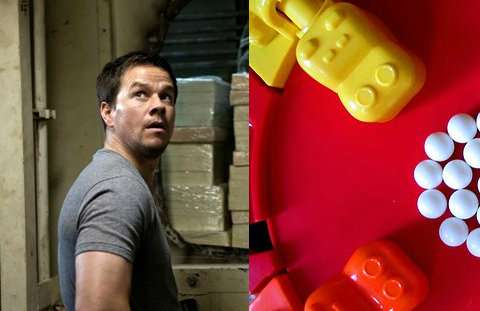 Hungry Hungry Hippos
Now this could be epic. An African expedition gets lost when their guide vanishes. Soon the group is in the middle of a hippo war.
The over aggressive hippos fight over who gets to eat what. The group, now lead by action star Mark Wahlberg, has to figure out a way to escape. Wahlberg eventually finds an abandoned mine field and carefully digs up the mines which just happen to look like giant marbles.
Wahlberg bravely uses himself as bait to get the two factions of hippos to come after him as he releases the mines. He manages to escape and the hippos eat up the marble mines and eventually all get blown sky high. Game, set, and match Wahlberg.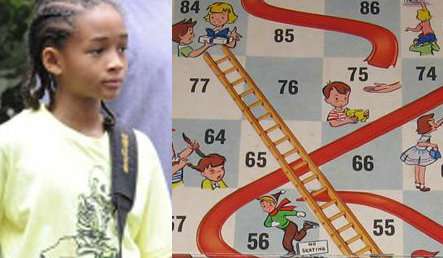 Chutes and Ladders
In this one a young boy, Jaden Smith, gets lost in the center of the earth, which happens to look like a paradise, but evil lurks about. He needs to escape and get home.
He has to go up to get out, but it seems every time he gets up a ladder a chute comes out of nowhere and he loses his progress. It will be the most aggravating movie of the year.
Mouse Trap
A crazy scientist has kidnapped several people and put them in a giant rat maze. Now this group of strangers needs to find their way out.
Leading the way is Nic Cage and the girl who's falling for him, Kate Beckinsale. Why these two? Because any ridiculous movie always seems to be that much better with Cage in it and he always seems to have some girl falling for him who is way out of his league.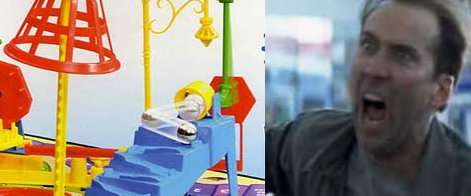 As the group tries to escape traps pop up all over recapturing many. Eventually the big basket trap we all remember and love falls and traps Beckinsale. Cage climbs the trap to the mad scientist's lair above the maze and Cage issues a beat down. Just before Cage finises the villain off Cage says the line, "No trap can hold this mouse."
Jenga
Now this is the real block buster. The tallest building in the world has been made and a huge grand opening party is being held on the roof.
A washed up ex-cop, Samuel L. Jackson, has attended the party because his successful brother is the architect of the building. But old Sammy has a bad feeling about this party.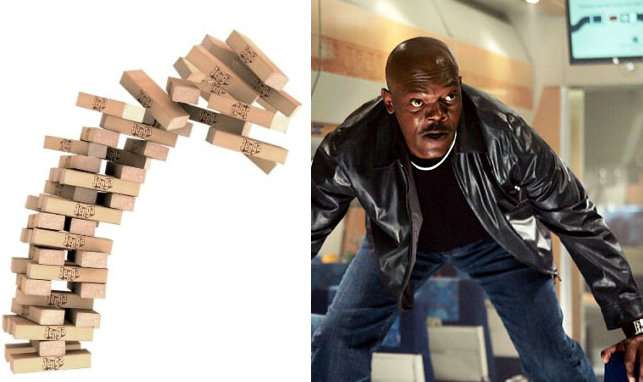 Before long a terrorist group is taking the building out chunk by chunk until it will ultimately collapse. Why chunk by chunk you ask? Because it's more menacing that way of course.
The only man brave enough to get these party people off this party building is Samuel L. himself.
On the way down the building he has to maneuver all the guests to one side or the other to make sure the whole thing doesn't collapse. He also manages to take out terrorists along the way.
When he finally gets everyone out he has a fight with the terrorist head and pins him under some debris. He then in the absolute coolest way possible takes out a bolt on the building and says, "Jenga." He then runs away as the building falls on the terrorist master mind.
Now there are some awesome movies. What board games do you want to see made into movies and why? Or, should Hollywood just stay away from board games all together and stick with more original stuff, like comic book movies? Tell us on the comment boards and on Facebook.
×
Related links
Most recent Features stories