Estimated read time: 2-3 minutes
This archived news story is available only for your personal, non-commercial use. Information in the story may be outdated or superseded by additional information. Reading or replaying the story in its archived form does not constitute a republication of the story.
Keith McCord Reporting You've likely seen the ads and billboards, and heard the debates between the candidates for Salt Lake City's mayor. But, there's a small, yet sincere, movement out there to get someone else elected Nov. 6.
The newcomer is very high profile, holds an important position in the city, and isn't officially in the race. However, the "Write-In Chief Burbank for Mayor" political committee is working to get him elected.
Write-in campaigns are rarely successful, but that's not stopping Steve Jones and Mary Mahler. They've printed up 150 bumper stickers urging voters to write Salt Lake City Police Chief Chris Burbank's name on the ballot next month.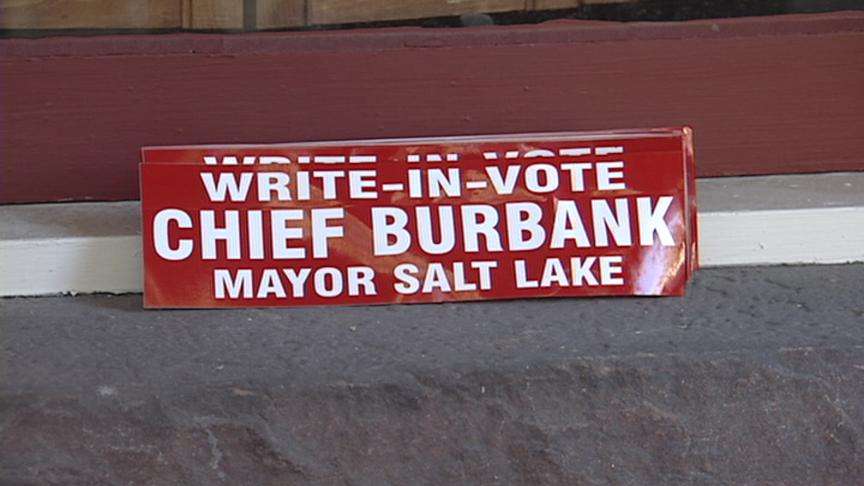 They're almost out of stickers. "I had one person see one on my car and came up and asked me for some, or if I had any, or where they could get them. So I gave him a couple," Mahler laughed.
Stephen Jones is the driving force behind the write-in campaign, and he says he's trying to make a serious point.
Concerned about the number of gang and drug-related crimes in the city, and witnessing a drive-by shooting in his own neighborhood, Jones says Salt Lake needs more cops. And, he adds, who better than a police chief/mayor to get that done? "If the chief were elected mayor, he would have the power to bully the city council into hiring a proper sized police force, enough police," Jones explained.
So, what does the police chief think about all this? "You know, I'm extremely flattered that anyone has the confidence in me to do that, but, truly at the end of the day, we have some good candidates for mayor," Burbank said.
Chief Burbank stops short of endorsing either Dave Buhler or Ralph Becker, but he says both support improving law enforcement in Salt Lake. And regarding increasing the numbers of officers, Burbank says that's happening already. "And we have had new officers for the past three years in a row, so that's constantly a direction that we're moving," Burbank said.
As for a future political career for Burbank, he says he's happy being the police chief.
But his write-in supporters say they still have hope. "We still have a chance at it. If people will call their friends and write-in Chief Burbank, we got a shot at it," Jones said.
Chief Burbank admits he does have one of these bumper stickers, a collector's item, he says. He also says it's kind of weird to pull up behind a car and see one of these stickers staring him in the face.
×
Most recent Utah stories