Estimated read time: Less than a minute
This archived news story is available only for your personal, non-commercial use. Information in the story may be outdated or superseded by additional information. Reading or replaying the story in its archived form does not constitute a republication of the story.
Photo Courtesy Herrintwins.com PROVO, Utah (AP) -- The Brigham Young football team presented a "Y" flag and other gifts to formerly conjoined twins Kendra and Maliyah Herrin and their parents.
Jake Herrin told players and coaches Thursday that BYU's success last season helped relieve the stress of tending to his daughters' health.
The 5-year-old girls were four when they were surgically separated in August 2006. They were born conjoined at the mid-torso, sharing several organs, a pelvis and a pair of legs.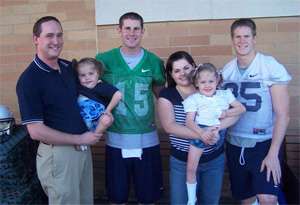 BYU players take time each week to recognize "Thursday's Heroes."
"We can help other people's lives through the way that we play and how we carry ourselves on and off the field," linebacker Kelly Poppinga said. "It's amazing to see how big of an effect we can have on somebody."
------
Information from: Deseret Morning News
(Copyright 2007 by The Associated Press. All Rights Reserved.)
×
Related links
Most recent Utah stories