This archived news story is available only for your personal, non-commercial use. Information in the story may be outdated or superseded by additional information. Reading or replaying the story in its archived form does not constitute a republication of the story.
SALT LAKE CITY — The Utah Poison Control Center is urging mothers to be careful about the content of their purses if they have young children in the home.
Purses are often treasure troves of seemingly innocent, but potentially poisonous objects. Due to their seemingly innocuous nature, many hazardous materials remain within easy reach of children, according to center spokeswoman Marty Malheiro.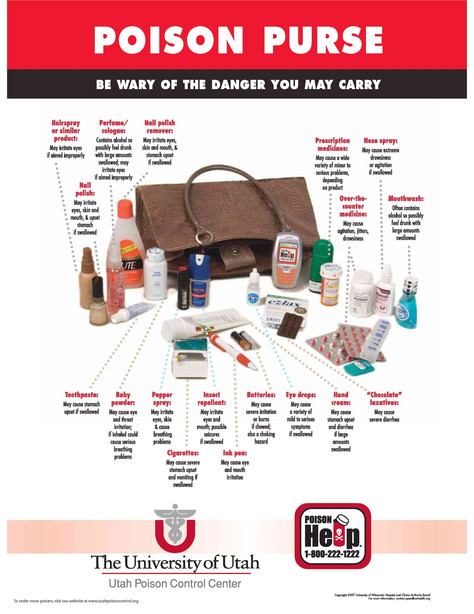 "Mothers need to recognize there might be some pretty dangerous products we carry around," she said. "Keep those handbags up out of reach and don't let that toddler play with it."
One common type of poisoning in children under 6 years old is from cosmetics or toiletry items. Items containing alcohol — such as mouthwash or spray colognes — are particularly threatening.
Eye drops, too, make the list of potentially dangerous substances.
"Toddlers like to gum on the plastic because it's so soft," Malheiro said. "But it's easy to puncture and they get a mouthful of the medicine, which can make a child very sleepy, very lethargic, and can cause breathing problems."
Malheiro said another source of problems comes from medication organizers with different compartments for different days. These pill minders do not have child safety locks and allow children to access a variety of medication in a short amount of time.
Utah Poison Control Center contact information
Call the Utah Poison Control Center 24 hours a day at 1-800-222-1222.
If mothers must keep certain items in their bags, the bags should be kept out of reach of children at all times, according to Malheiro.
Malheiro said the first thing a parent should do if a child does ingest a foreign substance is to call Poison Control at 1-800-222-1222, regardless of the time of day. The center can direct parents on what steps to take, depending on what was ingested. She also urged parents to program the phone number into their cell phones in case of emergency.
×
Related Links
Related Stories