Estimated read time: 1-2 minutes
This archived news story is available only for your personal, non-commercial use. Information in the story may be outdated or superseded by additional information. Reading or replaying the story in its archived form does not constitute a republication of the story.
Mary Richards & Amanda Butterfield ReportingA baby at the University of Utah Medical Center isn't even a day old, but she's what a lot of nurses and doctors are talking about; that's because of the way the baby came into this world.
Elisha Maria is perfectly healthy, a relief to mom and dad since her birth was such a shocker.
Her mother, Jessica Hawkes, says, "I sat down in the bathtub, and she just kinda slid right out."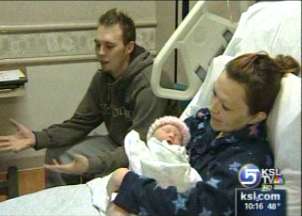 That's right -- slid right out on the slippery surface of the bathtub. Jessica Hawkes woke up this morning with pain, but she'd already been to U-med twice, both false alarms. So she decided to take a shower and see if the pain went away. It didn't, so she called for her boyfriend, Travis.
"She went and sat in the bathtub, and right when I called 911 I saw a head coming out," Travis said.
It was the first glimpse he got of his daughter, but the moment didn't last because he had work do to.
On the 911 call Travis can be heard saying, "The baby's out, the baby's crying, what do I do?"
The dispatcher responds, "I want you to tie a string or shoelace tightly around the umbilical cord."
Travis did all he was told, and paramedics soon arrived. Mom and baby are doing fine.
×
Most recent Utah stories