Estimated read time: 2-3 minutes
This archived news story is available only for your personal, non-commercial use. Information in the story may be outdated or superseded by additional information. Reading or replaying the story in its archived form does not constitute a republication of the story.
MURRAY — A man who ran back into his burning home in an effort to save his dogs was hospitalized Thursday with burns on his face and shoulders.
But Murray fire officials said this story actually has a good ending, considering that the man's fiancee awoke to find flames shooting over her bed frame and a fire burning just 4 feet away from her newborn's crib.
Three members of the house, including a 3-year-old boy, a 2-week-old girl and their mother, escaped unharmed. The 27-year-old fiance, Zach Brown, who ran in after the dogs was expected to make a full recovery. And the family's three dogs were all unharmed, including one that hid under the baby's crib the entire time despite thick black smoke filling the entire house.
"I don't know how he did that," Murray deputy fire marshal Russ Groves said.
The fire was reported about 8:50 a.m. at 4918 S. Poplar St. (48 West).
"(The mother) woke up to see flames at the foot of her bed," Groves said.
"The whole end of the bed was on fire and the dresser," mother Amber Bullock said.
She got out of bed, grabbed her newborn daughter from her crib and went into the living room where Brown and 3-year-old son Jaxon were sleeping. She woke them both up and all four got out of the house safely.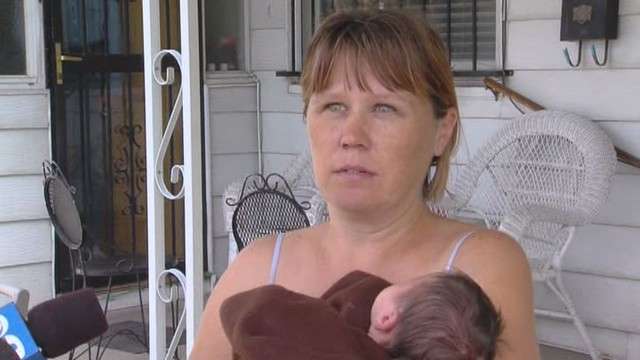 Brown ran back in, however, to look for the family's three Shih Tzus.
"He took in a lot of heavy thick smoke," Groves said.
Firefighters found all three dogs. The man was conscious and breathing when he was taken by ambulance to a local hospital.
"I was just glad I smelled it and got up before it got way worse," said Bullock, who explained that in the time it took to get everyone out of the house the entire bedroom was engulfed.
The cause of the fire was being blamed on an overloaded extension cord, Groves said. Damage was estimated at $120,000.
Crews were also able to prevent the fire from spreading to a nearby attorney's office 3 feet away from the house.
Groves said the fire was a good reminder for all homes to have smoke detectors that work.
Murray fire said that they think that the fire was related to an electrical problem.
Contributing: Andrew Adams
×
Photos