Estimated read time: 2-3 minutes
This archived news story is available only for your personal, non-commercial use. Information in the story may be outdated or superseded by additional information. Reading or replaying the story in its archived form does not constitute a republication of the story.
RANDLETT, Uintah County — With a flick of the fringe on her colorful shawl, Sarah Cuch invited Eric Wells to dance.
Ute tribal traditions dictate that Wells accept the invitation. So he walked to meet Cuch at the center of the Bear Dance grounds in Randlett, which have remained unchanged for generations. The pair joined arms and began to move together in what may be one of the oldest Native American dances in the United States.
"You mourn the people who didn't make it through the winter. You enjoy the children who were born in the winter. You enjoy the children who've grown in the winter. You teach them and come out to help everything grow," Cuch said, describing the reasons people attend the Bear Dance.
According to Ute legend, two brothers were hunting in the mountains and decided to rest. One of the brothers noticed a bear that appeared to be dancing with a tree while it growled and clawed the bark.
The young hunter approached the bear, which taught him how to perform the dance and the song that accompanies it. He was told to teach the song and dance to his people, and to have them perform it as a sign of respect for the strength the bear spirit imparts to the Utes.
"This dance is hundreds of years old," said Randlett Bear Dance Chief Skyler Lomahaftewa, whose great-grandfather was "one of the last old Bear Dance chiefs" in Randlett.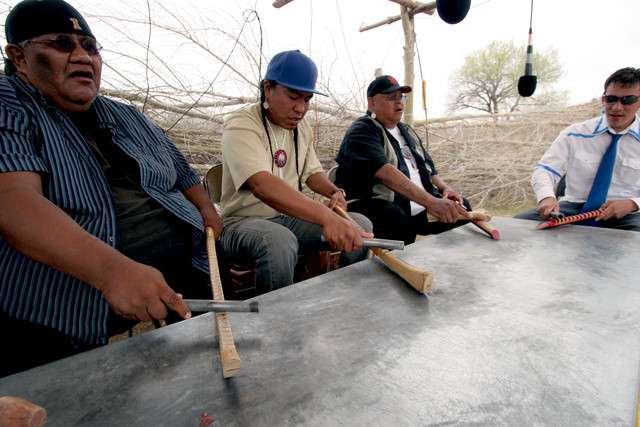 "He wanted me to carry on this dance and protect it," Lomahaftewa said, adding that the dance has evolved in small ways over time, "but it's still the same dance that we've always done."
"It's an original Ute dance of the Ute people," he said.
The four-day ceremony is a "social" affair, according to Lomahaftewa, that allows members of the community to come together after the long, cold winter months and reconnect. It is filled with symbolism connected to the bear's awakening from its winter hibernation, from the stick corral around the dance grounds that represents the bear's den to the use of a percussion instrument called a rasp that mimics the animal's growling.
The rasp, played atop a box covered with a metal plate, also simulates the sounds of the thunderstorms that signal the return of the growing season in traditional Ute lands in Colorado and Utah.
"The first thunder of the first rainstorm usually signals the beginning of spring, when the bear comes out of hibernation," Lomahaftewa said.
×
Photos
Related stories
Most recent Utah stories