This archived news story is available only for your personal, non-commercial use. Information in the story may be outdated or superseded by additional information. Reading or replaying the story in its archived form does not constitute a republication of the story.
SALT LAKE CITY — Opponents of Arizona's controversial immigration law gathered Wednesday outside the Salt Lake City Main Library to rally as the U.S. Supreme Court began hearing oral arguments on the law.
Allie Schulte, a member of the Salt Lake Dream Team, a group supporting legislation that would provide citizenship to undocumented high school graduates brought into the country as minors, said the Supreme Court's decision about Arizona's SB1070 would affect Utah.
"We really feel these laws are not only going to affect Arizona, but other states," Schulte said.
Related:
Parts of Utah's own immigration bill, HB497, as well as laws in Alabama, Georgia, Indiana and South Carolina, are on hold until the Supreme Court makes its decision.
"Based on what's come out in the news so far, the justices have said most of the tenets of SB1070 they're going to support," Schulte said. "Ultimately, it's going to be based on racial profiling."
Chief Justice John Roberts said the court was looking at issues of federal and state power and not civil rights concerns Wednesday. Although immigration policy is under the jurisdiction of the federal government, Arizona and other states passed their own legislation, saying the federal government doesn't do enough to fight illegal immigration.
"It's a can of worms," Utah Attorney General Mark Shurtleff said Tuesday. "The only way it gets solved is for Congress to finally step up and do something about this."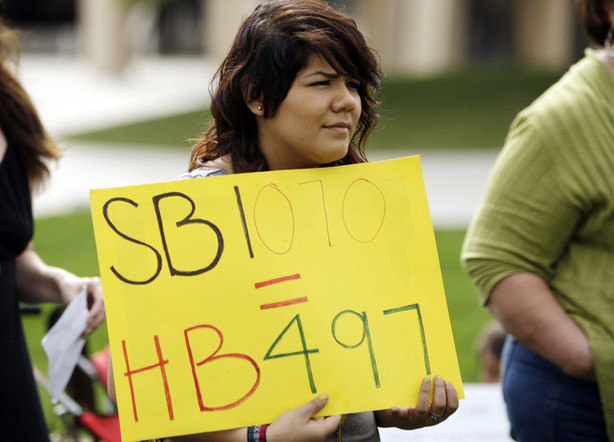 In front of a backdrop of Occupy Salt Lake tents, speakers at the rally spoke to the crowd of about 30 about the dangers of Arizona's law and the need to take action against it.
"Today, the hearings for Arizona's oppressive immigration law began in Washington, D.C.," said Lauren Wood, a member of the environmental group Peaceful Uprising. "This moment in time will surely affect undocumented residents of Arizona, but the ripple effect will go much further."
Jessica Carlson, a member of the Salt Lake Dream Team, called the law racist, saying it was "taking people and judging them."
"This law is wrong," she said. "Will American citizens who are tanner than others have to bring their IDs with them? If you live here and are a good person, you should be able to get the same rights as everyone else."
Carlson said she sometimes hears people say that undocumented residents need to "get in line" and become legal, but "I know people there is no line for."
"There are tons of kids who are brought here when they're young," she said. "Sometimes, they don't know they're not citizens until they're older."
Email:hschwarz@desnews.com
×
Photos