Estimated read time: 3-4 minutes
This archived news story is available only for your personal, non-commercial use. Information in the story may be outdated or superseded by additional information. Reading or replaying the story in its archived form does not constitute a republication of the story.
SARATOGA SPRINGS — A 30-foot climbing pyramid is the star attraction of a new regional park that boldly sends the signal that playground fun is making a comeback over the litigious season that spelled the demise of the merry-go-round and the teeter-totter.
"The (City) Council wanted to go and reach out and really capture attention with something," said City Manager Mark Christensen.
The "Neptune" pyramid is being billed as the largest of its type, and one of only three in the world, said City Councilwoman Rebecca Call. Its size makes it taller than most two-story houses.
The new regional Neptune Park, 452 W. 400 North, officially opens with ceremonies on Wednesday but is already drawing big crowds. "If you go about 3 p.m., it's just swarming," Christensen said. The structure is full of adults later in the day.
Five-year-old Kailer Holt was at the very top on Monday with his cousins, Savannah Warren, 12, and her brother Zach, who is 10. He said it was only a little scary climbing the rope structure inside the pyramid the first time but figures he could scale it again "in about four seconds."
But isn't the pyramid a monumental calling card for a personal injury lawsuit?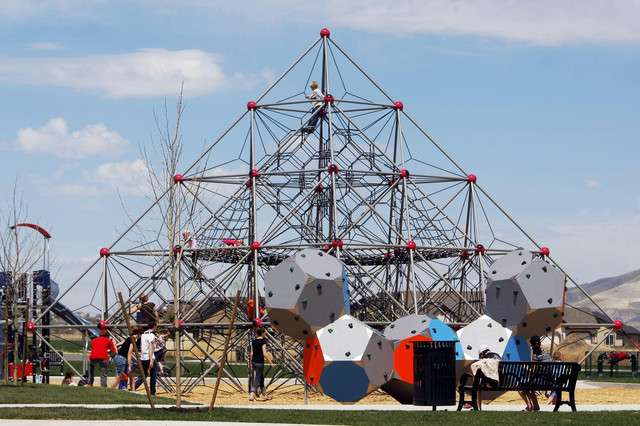 "Any playground equipment, whether it's a swing or a curb to step onto the park, has hazards," Christensen said. "We contacted our insurance company. We sent the plans before we did anything. They said that as long as it meets the specs, and is designed in such a way, it's a safe structure."
The rope structure inside the pyramid is both for climbing and catching someone if they fall. "It has the same safety ratings as other playground equipment," Call said. "We're OK with being the guinea pig occasionally, but safety is one of those things where we won't be the test run."
Safety issues and lawsuits have affected the inventory in public parks and playgrounds. "Our last merry-go-round came out of the ground 20 years ago," said Wayne Johnson, parks operations director for Salt Lake County.
The balance between fun and liability took a conservative turn decades ago when playground injuries were increasingly followed by lawsuits.
"We have 53 parks. There are zero merry-go-rounds. There are zero teeter-totters," he said. "The rule in the parks shouldn't be 'no fun allowed.'"
"Fifteen years ago we wouldn't have put in a skate park because someone would crack their head and sue," Johnson said. It turns out the trick to avoiding liability lawsuits had as much to do with adequate signage as it did the available play equipment.
Johnson said that as long as parks adequately advertise safe uses for equipment, personal injury lawsuits dry up. That has led to a trend for more adventurous park equipment, like climbing walls, skate parks and Saratoga Springs' 30-foot pyramid.
Parent Emily Hendrickson was at the park with her kids on Tuesday.
"You have to watch your kids. As long as you watch them and don't let them go too high for their age, they're probably OK," she said. "I think it looks great."
Contributing: Nkoyo Iyamba
×
Photos
Most recent Utah stories