Estimated read time: 2-3 minutes
This archived news story is available only for your personal, non-commercial use. Information in the story may be outdated or superseded by additional information. Reading or replaying the story in its archived form does not constitute a republication of the story.
John Hollenhorst Reporting Events on Tuesday will commemorate the six-month anniversary of an incident that shocked the nation. A student at Virginia Tech systematically gunned down students and teachers, killing 32.
At one university in Utah that incident is being used to justify a push for more concealed weapons.
Some professors are packing heat and maybe some students too. A class in Weber State University's Continuing Education Program is specifically aimed at getting people on and off campus to carry guns.
Classroom instructions are given by a professor of anthropology, who doubles as a concealed weapons instructor. Ron Holt says, "I see carrying a concealed weapon as a kind of life insurance policy: 99.99 times you'll never need it, but if you ever do need it, you'll probably really need it."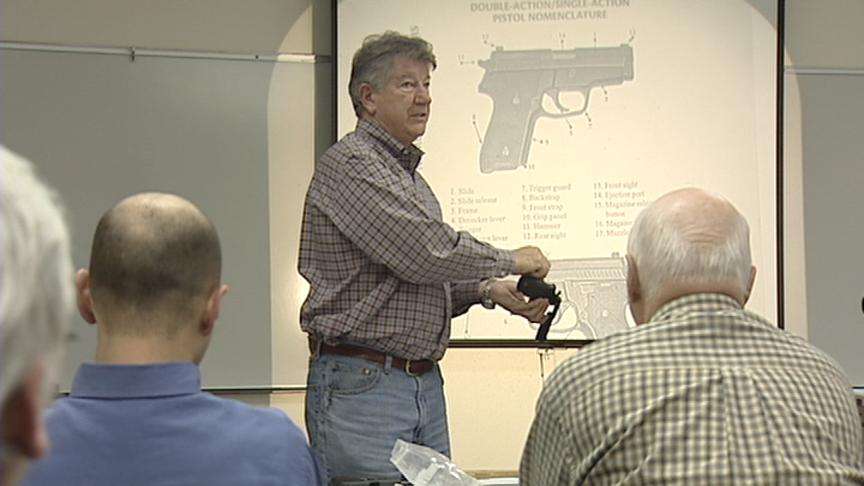 This continuing education class at Weber State is not for credit. It's open to off-campus folks too, as long as they're at least 21 years old and meet legal requirements for a gun permit.
Guns on campuses are not new. One anonymous teacher has had a permit for 10 years. He says, "My purpose in getting a concealed weapon was, in essence, to become a good citizen."
The tragedy in Virginia has become a selling point. He says, "And I don't consider myself a vigilante. I would never seek out an opportunity to fire my weapon at someone. But if someone is coming toward me, if I were in that situation such as at Virginia Tech, I feel in my heart that I'm prepared."
The classes teach gun safety and scenarios where it's a good idea or a bad idea to pull out a gun. "And I think the ability to react very quickly to a situation like what happened at Virginia Tech outweighs potential problems," says Holt.
We sought reaction at another campus: the University of Utah.
Cameron Strickland disagrees with Holt. He says, "I don't think that's a good idea, to have guns on campus."
"I don't really feel like I should be sitting next to someone with a gun," says Shannon Hook. "And in case something does happen, I don't really necessarily believe everybody has the capability of actually doing something without maybe hurting other people in the process."
But one student applauds the idea. Jake Coburn says, "It gives everyone a sense of confidence, that they can defend themselves."
Utah has issued more than 100,000 concealed weapon permits. That means, whether you like it or not, about one out of every 25 people you meet on the street, in the mall or on campus, could be carrying a gun.
×
Most recent Utah stories