Estimated read time: 3-4 minutes
This archived news story is available only for your personal, non-commercial use. Information in the story may be outdated or superseded by additional information. Reading or replaying the story in its archived form does not constitute a republication of the story.
SALT LAKE CITY — A couple tied the knot in an Ikea restaurant after being reunited there two years ago.
Willie Pittman and Julie Rodgers attended the same high school in Washington, D.C., according to NBC. They went 30 years after graduation without seeing one another, though — and found each other again in a Maryland Ikea.
"We ended up having dinner here and at the end of it, I said, 'This is one of the best dates I've ever had,'" Rodgers said.
The two are spending their honeymoon in New York City, and said they plan to visit the Brooklyn Ikea store while they are there.
Social gas thief
A Kentucky man was arrested after posting a picture on Facebook of himself siphoning gas from a police car.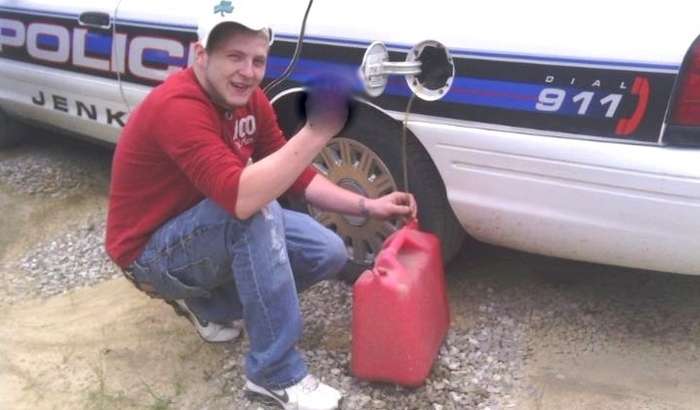 Michael Baker, 20, posted a picture of himself from March displaying a crude hand gesture and siphoning gas from a Jenkins, Ky. cop car. The photo went viral in the city, eventually making its way to Jenkins police.
According to an arrest warrant, Baker "stole gas from a Jenkins City police cruiser with the intent to deprive them thereof valued at less than $500." He then "posted a picture of his theft on Facebook."
On his Facebook page, Baker told friends he had been "arrested for Facebook." In another post, he said "it was just a joke."
Employee allegedly spits in drinks of customersAn employee spit into the cups of two customers at a South Carolina McDonald's after the iced teas were returned for not being sweet enough, according to police.
Marvin Washington Jr., 19, was arrested Wednesday on charges of malicious tampering with food.
Surveillance footage from Saturday shows the man leaning over the cups before filling them. The customers said they discovered the spit when they removed the lids to their drinks because the tea was still not sweet enough.
The operator of the franchise is urging people not to come to conclusions too quickly.
"Nothing is more important to me than the safety and well- being of my customers," John Kennedy said in a statement. "I want to assure my customers that my restaurant has the most stringent food safety and quality standards and I caution anyone from reaching a conclusion without the facts."
Remus Medley finishes the 116th Boston Marathon on his hands.
Man finishes Boston Marathon on handsA man finished the Boston Marathon in an unconventional way after cramps in his legs would not allow him to run any further.
Remus Medley, of Baltimore, Md., felt his legs cramp up as he neared the finish line of the race. The race itself had been grueling, but the temperature — which at one point topped 90 degrees — made things worse for Medley.
So he walked across the finish line on his hands.
The move made headlines worldwide, as some applauded Medley's moves, while others doubted whether leg cramps were the real reason he decided to finish the race upside-down.
×
Photos
Related links
Related stories
Most recent Features stories